Nickelodeon Promotes Pamela Kaufman to Expanded Role of CMO and President, Consumer Products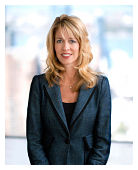 July 25, 2013 – Pamela Kaufman has been promoted to the expanded role of Chief Marketing Officer and President, Consumer Products for Nickelodeon, it was announced today by Cyma Zarghami, President, Nickelodeon Group, to whom she will continue to report. In her new role, Kaufman will have oversight of Nickelodeon's domestic consumer products business, encompassing merchandising and licensing for some of the most popular and iconic intellectual properties, including SpongeBob SquarePants, Teenage Mutant Ninja Turtles and Dora the Explorer.
"Pam is an excellent marketing executive who has provided Nickelodeon with high-level vision, strategy and execution across all media platforms," Zarghami said. "She thoroughly understands the consumer products business and as CMO has the widest view of all the ways our partnerships move across the many different aspects of our company. Under Pam's leadership of our best-in-class organization our portfolio will continue to grow. By adding Consumer Products to her purview Pam will combine brand-wide strategic thinking that will connect our many initiatives and CP categories with an eye toward retail expansion."
As Nickelodeon's CMO, she currently oversees all of the company's marketing efforts, including trade, consumer and retail executions across all businesses. She has built and oversees a first-class integrated marketing organization that brings Nickelodeon and its partners together in 360 degree executions including major events like the Kids' Choice Awards; digital initiatives such as the recently launched Nick App; and recreational experiences including Nick Universe at Mall of America and the Nickelodeon experience on Norwegian Cruise Lines.
Before joining the network in 1997 as Vice President of Nickelodeon Promotions Marketing, Kaufman worked at Turner Broadcasting System, Inc., as Vice President, Promotions. There, she started the Promotions Group within TBS's Licensing & Merchandising division and led the promotional efforts for corporate initiatives like The Flintstones, Scooby Doo and Johnny Quest. Kaufman significantly grew the business and brand exposure for these properties. She began her career at Grey Advertising's Beaumont-Bennet division working on a variety of accounts including Hess gasoline, Gordons Gin and Vodka before moving to Equity Marketing where she developed and sold comprehensive premium programs to domestic fast food, packaged goods and beverage companies.
Throughout her career, Kaufman has received numerous awards for outstanding marketing and has been recognized by the media community as a true innovator in her field and has received several awards including Advertising Age's Entertainment Marketer of the Year in 2002, Brandweek's 1999 Grand Marketer of the Year, and the Marketer of the Year in 1998. Additionally, under her leadership the Nickelodeon Brand Marketing team was awarded the 2007 NAMIC Excellence in Multicultural Marketing.
Kaufman holds a Bachelor of Arts degree in Public Communications from American University.