Nordstrom Rack to Open at Baybrook Square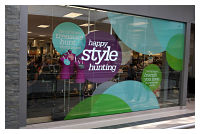 Aug. 7, 2013 – Seattle-based Nordstrom, Inc. announced today plans to continue to grow its Houston-area presence with the addition of a Nordstrom Rack at Baybrook Square in Webster, Texas. The approximately 31,000-square-foot store is scheduled to open in spring 2015. Baybrook Square is managed by Fidelis Realty Partners. When it opens in 2015, the Baybrook Square Rack will be the fourth Houston-area Nordstrom Rack. In July the company announced plans to open a third Rack location at Willowbrook Mall in fall 2014.
Nordstrom first came to Houston with a full-line store at The Galleria in 2003. The company will open its second Houston full-line store at The Woodlands Mall on September 5, 2014. The first Houston Rack store opened at Centre at Post Oak in 2010 followed by the 2011 opening of a Rack at Market at Town Center.
"We want the Rack to be Houston's destination for great fashion at great prices," said Geevy Thomas, president of Nordstrom Rack. "We've been focused on finding excellent locations across the area, and we're thrilled to be opening a store at Baybrook Square."
Nordstrom Rack is the off-price retail division of Nordstrom, Inc., offering customers a wide selection of on-trend apparel, accessories, and shoes at an everyday savings of 30-70% off regular prices. The Rack carries merchandise from Nordstrom stores and Nordstrom.com and specially purchased items from many of the top brands sold at Nordstrom. The Rack provides the ultimate treasure hunt to style-savvy customers.
The new Nordstrom Rack will move into the space currently occupied by DSW, which is relocating within the center. Located at the southwest corner of Interstate 45 and West Bay Area Boulevard, Baybrook Square serves customers in the Clear Lake area of Houston and the surrounding southeast suburbs. The approximately 295,000-square-foot center has over 30 tenants and is home to a mix of retailers including Old Navy, DSW, Marshalls HomeGoods, Sun & Ski Sports and Office Depot.
"Fidelis is delighted to add an energizing anchor like Nordstrom Rack to our Baybrook Square Center. They are a familiar brand with a strong fashion offering that is needed for this demographic area," said Lynn Davis, Principal and Chief Marketing Officer.