Norton's U.S.A. Partners with MyRegistry.com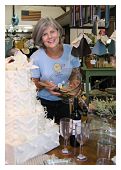 September 10, 2013 – For everyone who has desired to register for American-made wedding gifts, baby gifts or special occasion gifts, Norton's U.S.A., the general store selling only American-made products, has made it possible by teaming up with MyRegistry.com, the universal gift registry. People can register for gifts by going to www.NortonsUSA.com and clicking on the 'Gift Registry' tab. Those near the Barrington, Illinois brick and mortar store can also register items in the store.
According to Consumer Reports Magazine in February 2013, "Given a choice between a product made in the U.S. and an identical one made abroad, 78 percent of Americans would rather buy the American product." Norton's U.S.A. opened its doors in 2007, began an online store in 2010 and currently has over 3,000 quality American products to choose from. With made in the U.S.A. dishes, glassware, bakeware, linens, baby products, toys, clothing and more, all wishes can be fulfilled.
Owner Deborah Leydig began her mission to provide a source for American-made goods after realizing how many products were no longer made in the U.S.A. and how many jobs had been lost as manufacturing moved abroad. Thrilled that brides, soon-to-be parents and new home owners can now proudly register for products made in the United States, Deborah states, "We have an amazing kitchen and housewares department, perfect for any new bride and groom. Our American-made baby toys, clothes and gifts are just what new parents are asking for, too."
With www.MyRegistry.com, people can easily send their registry to family and friends. Plus, with MyRegistry.com's huge network of stores, people can conveniently create one comprehensive gift registry including products from as many stores as they wish. Norton's U.S.A. is MyRegistry.com's first general/department store carrying exclusively American-made goods. With Norton's U.S.A. and MyRegistry.com, making a wish list of made in the U.S.A. items has never been easier.