Silver Jeans Co. Set To Open Loft At Stonebriar Centre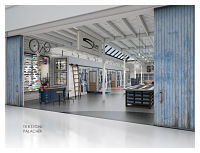 September 10, 2013 – Silver Jeans Co., a Canadian-based company known for high quality and well-fitting jeans in the mid luxury denim market, has announced that it will officially open its "loft" concept store at Stonebriar Centre on October 25th in Frisco, Texas.
"We put a lot of work into making sure the store environment represents our brand," says Michael Silver, CEO, Silver Jeans Co.™. "Consumers will be able to experience our brand values by visiting one of our lofts. We've created an environment that has a comfortable modern feeling but also lets our guests know that we're a historic brand with a rich 92-year history."
The Stonebriar Centre Silver Jeans Co. loft is designed to provide consumers with a unique and creative denim experience. Offering expert customer service with a well-trained staff of "Jeaners" (retail sales associates), the Silver Jeans Co. loft will be highly personalized, catering to customers' specific fit needs. From the unique sliding loft doors to the hanging hammock and eclectic mix of chairs throughout, The Stonebriar Centre loft was designed with a playful and fun feel. The rustic wood paneling, craftsman style denim bar and vintage Western Glove Works factory photos reflect the Silver Jeans Co. heritage.
The 2,000 square foot loft highlights the latest collection from Silver Jeans Co. and offers consumers a personalized approach to a full range of men's and women's signature denim fits and sportswear. The loft will feature the latest in digital technology with an innovative mobile point of sale system. A six foot media wall displaying the latest campaign and breakthrough music videos as well as behind the scenes features from Silver Jeans Co. campaign photo shoots will be the centerpiece. The Silver Jeans Co. loft will feature eco-friendly shopping bags and host community centric events for the Frisco, Texas area.