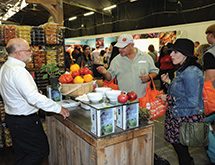 The crisp air has blown in and the smell of pumpkin is everywhere – from your morning latte to the incense in the office – and that can only mean fall has arrived. The new season begins, bringing with it the highly anticipated annual New York City Wine & Food Festival, one of the largest wine and food festivals in the United States.
"We are excited to unveil our 2015 event lineup, which includes the return of festival fan favorite events and a variety of new experiences for our passionate attendees," says Lee Brian Schrager, festival founder and vice president of corporate communications and national events for Southern Wine & Spirits of America Inc. "Festivalgoers will have the opportunity to see their favorite chefs and culinary personalities, including both veteran and new faces from the Food Network & Cooking Channel, plus interact with leading winemakers and spirits producers from the Southern Wine & Spirits of New York portfolio."
The eighth-annual Food Network and Cooking Channel New York City Wine and Food Festival will take place Oct.15-18, 2015. Each year, the festival attracts more than 50,000 attendees, world-renowned chefs, winemakers, spirits producers and culinary personalities for a weekend that is filled with unique experiences.
This year, Retail Merchandiser will be in attendance at the event and posting about our experiences to Facebook and Twitter. Make sure to follow us on Twitter @RM Magazine and on Facebook at Retail Merchandiser for the latest behind-the-scenes photos, quotes from your favorite chef, event descriptions and much more.
Favorites and Firsts
Last year's festival offered more than 100 events throughout New York City, including intimate dinners with world-renowned chefs such as Beldium's Kobe Desramaults, Italy's Dario Cecchini, England's Yotam Ottolenghi, Mexico's Enrigque Olvera and France's Philippe Baranes, Christophe Boucher and Gregory Marchand. It also offered late night parties, educational seminars and panel discussions.
Pier 94 hosted New York City Wine and Food Festival's Grand Tasting where guests sampled dishes from the city's best restaurants, enjoyed tastings from suppliers of the Southern Wine and Spirits of New York portfolio and interacted with top culinary and lifestyle brands. More than 20 Food Network, Cooking Channel and other celebrity culinary personalities hosted demonstrations on the KitchenAid Culinary Demonstration stages.
This year, the festival will feature favorite events like the Italian-themed feast hosted by Giada De Laurentiis, Chicken Coupe hosted by Whoopi Goldberg, Rock & Roll Sushi hosted by Masaharu Morimoto, Meatopia hosted by Michael Symon and Blue Moon Burger Bash hosted by Rachael Ray – plus the return of her Feedback™: Chefs & Cocktails party.
There are also plenty of new fêtes to keep everyone's taste buds tantalized at the 2015 festival, including brunches hosted by Bobby Flay, Martha Stewart and Geoffrey Zakarian, a Harlem-inspired midnight Jazz breakfast and a celebration of ramen with Chrissy Teigen and Serious Eats' J. Kenji López-Alt. A new signature Art of Tiki: Cocktail Showdown, intimate dinners and seminars with celebrated chefs and beverage personalities will also tempt attendees.
A Worthy Cause
The 2014 New York Wine & Food Festival drew a crowd of about 55,000 people and raised $1 million for leading hunger-relief organizations. "Eradicating hunger, both here in New York and across the country, is something we know we can always count on our talent and fans to support," President of the Food Network & Cooking Channel Brooke Johnson said last year.
The festival has raised $8.5 million for the Food Bank for New York City and the Share Our Strength's No Kid Hungry campaign. Chef Alex Guarnaschelli attends both the New York and South Beach Wine & Food festivals regularly and says she teamed up with the No Kid Hungry campaign because she is a chef and a mother raising a child in America.
"My daughter goes to public school and I can see the impact breakfast – or lack thereof – has on children," she told us last year. "It affects, ultimately, their chances for starting their life right and working towards a bright future…where everyone eats breakfast and starts off the day with great energy for learning."
Guarnaschelli believes people in the food and beverage industry still have a great deal to learn about the fight to end hunger and the New York City Wine and Food Festival helps take a step in that direction. "We are a community infused in food that works better when we pool our efforts and effectively, 'share our strength,'" she adds. "Tag lines like 'eat, drink, end hunger' sends the message. They delineate the problem clearly and inspire people to join the cause."