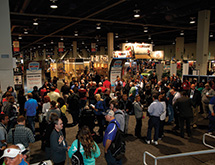 The 10th annual Sports Licensing and Tailgate Show takes place Jan. 24-26, 2016, at the Las Vegas Convention Center in the South Hall. It is the premier event for brand owners, licensors, licensees and retailers interested in sports and tailgate merchandise. Exhibitors hold the licenses for professional, collegiate and all other sports teams and represent every possible category – apparel, accessories, housewares, pet products, gifts, toys, children's gear and much more.
Nearly 2,000 buyers attend from all 50 states and 10 other countries. All types of retailers come to the show: sporting goods stores, college bookstores, department stores, specialty shops, mass market, online retailers, sporting venues and concessionaires. Some of the retailers that attended in 2015 included Academy Sports + Outdoors, Amazon.com, Bed Bath & Beyond, Big 5 Sporting Goods, Burlington Coat Factory, Costco, Dick's Sporting Goods, Dunham's Sports, Fanatics, Fred Meyer, Kohl's, Lids, Pro Image, Ross Stores, Sears, Skymall, Sport Chalet, The TJX Companies, Toys "R" Us, Wal-Mart, Wayfair and Zulily.
More than 400 companies will be exhibiting. Six months out from the January show, more than 245 companies had already committed to exhibit, showcasing everything from apparel, souvenirs and leather goods to housewares, shoes and musical instruments. More than 30 of them are new to the show. The list of first-time exhibitors includes Pan Pacific Plastics Mfg. Inc., Audio Icons LLC, Rhino Rugby, Applied Icon Inc., Summit Sportswear, Rhinestone U Inc., CollegeGuitars.com, Bruzer, Fast Asleep LLC, Cozy Cover, Diehard Scarves/Promote Your Team, FiveLo Sports, MV Sport-The Game, Nordic Company Inc. and The Mountain.
Exhibiting leagues and agents already committed for 2016 include NASCAR, NFL Players Inc., NBA Properties Inc., National Hockey League, Collegiate Licensing Company and Learfield Licensing.
"The Sports Licensing and Tailgate Show has shown positive growth over the past three years, and 2016 is forecasted to welcome more leagues, agents, brands and buyers than ever before," Show Director Liz Crawford says. "This show is truly an order writing, relationship building and marketing planning show. Brands and retail buyers can be confident that they will get business done with a positive return on investment."
In addition to custom seminars, the Independent Retailer Conference (IRC) will be returning again this year. The IRC is dedicated to the unique lifestyle and responsibilities of small business owners. These focused, 15-minute sessions will leave independent retailers better educated and more inspired – with takeaway tools to bring back to their stores.
The 2016 show will feature special exhibit areas: Tailgate Zone and International Pavilion. There will also be plenty of networking opportunities, including the Opening Night Party and a second night happy hour. The NFL Playoff games will be broadcast on TVs around the show floor.
Plus, the "License to Buy" show specials program is back again, offering discounts from participating exhibitors and incentives for buyers to place orders right on the show floor. The 2015 License to Buy program was the biggest ever, with nearly $3 million in orders written.
For more information or to register, visit www.sportstailgateshow.com.