Office of Agricultural Affairs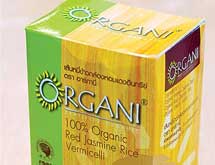 Thailand's economy has grown, in part, thanks to its strength as an exporter. Now it is looking to enhance organic agricultural practices and bring more organic products to the US. Although some people may not realize it, the Kingdom of Thailand is the number one exporter of natural and organic products in the world. Thailand's economy depends on the country's status as a leading exporter, and the Office of Agricultural Affairs of the Royal Thai Embassy (OAA) is hard at work in the US promoting and expanding export relationships with American importers and retailers.
As the leading organic food producing nation in Southeast Asia, Thailand has a long history of organic farming dating back for century. Recent organic agriculture efforts in the country began in 1991 with the Organic Rice Project, reinforcing that tradition. Earlier this decade, its government announced a national organic agenda, allocating around $2 million to reduce the use of chemicals in agricultural pursuits. By the end of 2006, it successfully reduced the usage of chemicals by 50%, a substantial reduction.
"Traditional organic farming is a way of life, and organic production has a long tradition in Thailand. Our organic products are 100% natural and offer unique flavor and high quality," said Rapibhat Chandarasrivongs, minister of OAA. "We practice sustainable agriculture, and we are also concerned about food safety and producing quality food for domestic and overseas consumption."
Expanding the marketplace
Over the years, Thailand has successfully marketed its exports to European Union nations and other countries such as Japan, New Zealand, and Australia. More recently, the country has been focusing on organic products, and early success came in relationships with the EU and Japan. The American consumer has only recently seen the light when it comes to organic foods, so the Office of Agricultural Affairs sees the US, and indeed all of North America, as a potentially lucrative market waiting to be tapped.
One of Thailand's major exports is jasmine rice. The US has typically been a big purchaser of jasmine rice from Thailand, but not necessarily organically produced jasmine rice. As demand for organic products by American consumers continues to rise, this is one area where Thailand's focus on exports and organics should bear fruit in the years ahead.
Speaking of fruit, Thailand is also looking to introduce organic fruits to American consumers. Coconuts, mangosteen, and longan are just a sampling of the fruits Thailand hopes will become popular among American consumers in the future.
In addition, Thailand already exports shrimp into the US market. According to Chandarasrivongs, 36% of the shrimp exported into the US market comes from Thailand, but again, not specifically organic shrimp. "Going forward, we'd like to introduce organic shrimp into the US. It is already well-received in the EU and Japan, and this is another potential organic item to introduce to US consumers," he said.
Thailand is working to promote the growth of its organic products through the Thai Organic Trade Association (TOTA). Founded in October 2005, it is made up of private companies that are involved with certified organic production and trade.
"It is made up of many of stakeholders, including private companies and farmers. It has five goals: to promote organic trade for export and domestic markets, to promote consumer awareness of organic products, to promote business networking among TOTA members, to support ethical practices in regards to organic products and trade, and to facilitate information sharing regarding organic farming and trade," Chandarasrivongs said.
"On the other hand, the Thai government continues to pay great attention to the country's organic agriculture development," he continued. "The government plays an ongoing role in supporting organic production through strategic policies and funding."
Getting the message across
Here in the US, the Office of Agricultural Affairs is working to introduce exporters and products to decisionmakers in the market through food and trade shows. These include food shows in large markets like Boston and New York. In September, Thailand exhibited for the first time at Natural Products Expo East 2009 in Boston. The country is in the midst of an effort to become the seventh country whose government is authorized to certify products under the National Organic Program (NOP) by the USDA. This type of outreach is expected to help Thailand successfully achieve that goal.
Additionally, the president of TOTA was present at the Boston expo, meaning not only was the Royal Thai Embassy represented, but the leadership of the companies the embassy is promoting was represented as well.
"We will continue our campaign of attending agricultural and food trade shows, which will expand the market by bringing exporters and producers over every year, so we can become associated with the importers and retailers in the US market," said Yupawan Utiskul, assistant to the minister and organic project coordinator. "Many people are familiar with Thai products, and by bringing over the organic version of those products, we are can increase interest in the market for organic products from Thailand."
Pushing sustainability is a big part of Thailand's agricultural efforts at home and abroad. Agricultural alliances have helped to enhance that effort. For instance, in 1993, the Green Net Cooperative was established. It is one of the largest organic wholesalers and producers in Thailand. To promote sustainable agriculture, it provides fair trade market access to producers of organic products.
It has 1,100 members, and the cooperative is a member of the World Fair Trade Organization (WFTO), the International Fair Trade Association (IFTA), and the International Federation of Organic Agriculture Movement (IFOAM). Its products are all organically produced and certified by programs related to IFOAM's accreditation program, EU regulations, Canadian Organic, or the USDA's NOP.
As the Office of Agricultural Affairs of the Royal Thai Embassy continues to promote the expansion of organic exports with the American market, the key for success lies with the American consumer. Americans are becoming more conscious of environmental issues and healthy living, but they are also equally concerned about cost in the face of the toughest economic situation in decades. As long as Thailand can convince American importers, distributors, retailers, and consumers of the inherent value in the organic products it is bringing to the marketplace, Americans will likely welcome the products into their homes. In fact, the initial response by American consumers has been positive.
"One product that we've brought over already is organic coconut ice cream, which is available at Whole Foods Market," Utiskul said. "In the near future, more Thai organic products will cater to the increasing demand of the American market, such as red jasmine rice noodles, organic cooking chili paste, an organic soup base produced from more than 20 of the finest Thai organic ingredients, and curry pastes."
"We are trying to introduce organic products that fit the American culinary lifestyle and make Thai cooking easy. Since the US market is very large, even a small percent of consumption of our organic products is considered successful," added Chandarasrivongs. "The real challenge is how we prepare our kitchen to meet the growing demand for organic food in the United States, and that is the part of the Thai government's national strategies."