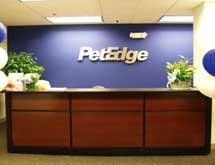 This pet product developer and distributor uses its years of experience to manage an efficient supply chain and evolving company structure. People may opt to ride their bikes to work rather than drive during a recession. They may also stay home and watch TV rather than going to the movies. But one thing they won't sacrifice: the way they care for their animals.
Perhaps that's how pet product developer and distributor PetEdge has managed to not only stay afloat but continue growing for the past few years. The pet industry as a whole has been the least affected by the recession, which means non-pet retailers have become more interested in stocking their shelves with pet-focused items.
"One of our core strengths is our ability to help those retailers get into the pet industry," said Andy Katz, president and CEO. "The fastest growing segment of our business is our PetEdge Dealer Services group, which focuses on selling to retailers within the specialty channel and non-pet retailers such as department stores, feed and grain stores, and hardware stores."
Founded in 1956, PetEdge primarily serves professional pet groomers, kennels, and veterinarians. Since developing the dealer services group approximately six years ago, it's found a new area of growth that requires the kind of expertise the company has built over the decades.
In addition, PetEdge doesn't sell to the large national chains, such as Walmart and PetSmart, which means its retail customers get better margins on the prices as well as the opportunity to have unique merchandise not found in mega stores. "Our products sell very well," said Trina Bicknell, vice president of sales.
"Once retailers get the products in the store, because our products are innovative and the margin so great, they can charge a more reasonable price in the store, make more money, and have faster product turnaround," she continued. "And the way we've built our business model, we have strong relationships with our factories so we can get the products to our customers faster and cheaper than other suppliers."
Years of experience
A company's ability to stay in business for more than 50 years comes down to more than luck. In the case of PetEdge, it stems from being able to evolve to meet the needs of customers.
The company was originally started by Loeb Katz to provide serums to local dairy farms in Topsfield, Mass. As the company grew, it expanded its reach to include pet products. PetEdge now sells the number one brand of apparel in the pet specialty channel, the number two brand of dog toys and beds, and the number one brand of cat furniture and cat toys.
"Our exclusive brands of pet apparel didn't exist seven years ago, but now they're being reported number one by pet trade journals," said Katz. To maintain this edge, product development has become one of the company's core strengths.
From its Beverly, Mass. headquarters, the company houses a team of product development professionals, as well as independent designers and artists. Many of those professionals used to develop human apparel in their previous professional lives and bring to the table years of experience. Coupled with overseas and stateside sourcing offices that focus on developing strong vendor relationships to support the company's products, PetEdge delivers a level of value most other pet product developers can't.
"We've built our business model to maintain good relationships with the factories we work with to bring product efficiently from Asia, in some cases direct to our customers and in others to our distribution centers on the East and West Coasts in the US, and get the product to our customers quicker and cheaper," said Katz.
Efficient logistics
For PetEdge, developing an efficient logistics and supply chain starts in Asia where many of its products are manufactured. The company owns 30 brands of products and thousands of SKUs and works with more than 100 factories. The first step is identifying which manufacturing facility should handle which product.
When developing a dog toy, for example, based on the materials and design, the company knows which factory will manufacture the best product at the lowest cost to its customers. Then, depending on the size customer in question, products will be shipped from the factory to a PetEdge distribution center or directly to the customer.
"We have employees in the factories, so our customers never deal with a third party," said John Rice, vice president of operations. "In supply chain, there are many 'five-percenters' lined up in the process, adding cost. We don't have that. We're lean and direct in our dealings and in our pricing."
When the company developed the dealer services division, the premise was to maintain an efficient supply chain to bring its innovative products to market at the lowest possible price. When PetEdge began serving the retailer market more aggressively, efficiency became an even bigger focus.
"We focus on continuous improvement," said Katz. "We always look for new ways to be more efficient in our supply chain."
Putting it all together
Almost two years ago, PetEdge launched new Web sites for PetEdge and PetEdge Dealer Services. Recently, the company made significant updates to those sites to make it easier for customers to do business with the company, to find products, and to order products recurrently.
"Certainly, for some of our larger customers, e-commerce is more of an information provider because we take their orders via EDI," said Katz. "But for a lot of our small and mid-sized customers, the ability to place recurrent orders on our Web site or send recurrent shopping lists to replenish their shelves with is appreciated."
Bicknell said the sites provide a way for customers that can't come into the company's 50,000-square-foot office and showroom to see the products, the dimensions, and get an idea of what they're purchasing before they get it. According to Rice, the Web sites are also a way for PetEdge to evolve the business it developed when it was a catalogue company to meet today's business needs.
"We've taken all we've learned from mailing catalogues to customers, having them phone in or fax, or servicing them remotely in other ways and are capitalizing on that expertise through our Web sites," Rice said. "It's important to the business to let the outside in, to not be insular in how we view the world but rather peruse the landscape for changes."
Bicknell agrees. "We look forward to see what we think will be happening next in the industry," she said. "We're not afraid to change our business models. We don't look to follow others; we look to be a leader in the pet product industry."
"Our culture and our mantra is to be well connected to our customers and understand their needs and what the trends are," concluded Katz. "That philosophy has served us well over the years."