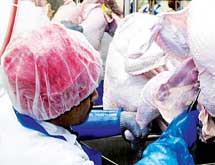 This poultry producer has seen many changes over the years, and its new ownership is committed to producing antibiotic-free turkey products to an ever-growing market. Although it has a history dating back to 1835, Plainville Farms has recently been reborn. For generations, it was owned and operated by the Bitz family in Plainville, NY.
The sixth-generation owner/operator of Plainville Farms, Mark Bitz, was responsible for Plainville's transformation into an antibiotic-free turkey producer using feed with no animal byproducts. Mark Bitz also led the transition of Plainville Farms from a family-owned company into an organization led by a parent company capable of handling the 10% to 20% annual growth it had seen in the years leading up to the sale.
In August 2007, the sale of Plainville Farms to Hain Pure Protein Corporation was completed. Hain Pure Protein is a joint venture between The Hain Celestial Group, a leader in many natural food categories, and Pegasus Capital Advisors, a private equity fund manager. Jim Reed was brought in to lead the new incarnation of Plainville Farms. In the last two years, the company's growth has accelerated to 30% annually.
Initially, the company continued to operate the Plainville Farms plant in Plainville, NY, but that changed in January 2009. At that time, turkey production was transferred to a plant in New Oxford, Penn., which was named Plainville Farms to maintain the company's brand identity. The reasoning behind moving production to the New Oxford plant was simple—size matters.
"We took that volume to New Oxford because it is four times as large as the Plainville facility," Reed said, noting that the original Plainville Farms plant had limited room for growth, and increases in demand required Plainville Farms to purchase some of its turkeys from other antibiotic-free suppliers. However, the company decided it preferred to move all production and processing inhouse to guarantee optimum quality, which necessitated the move to Pennsylvania.
"We purchased an operating turkey plant from Pilgrim's Pride in March 2008, and we subsequently transitioned that plant from conventional production into an antibiotic-free turkey plant," said Reed.
Different than the rest
The antibiotic-free concept is critical to the company's standing with consumers. Plainville Farms is now built on the principle that it is wrong to pump antibiotics prophylactically and administratively into turkeys. The traditional model for turkey production had become to fit as many birds into a facility as it could hold. Although this allowed for better cost control, it also resulted in sick and injured stock. Mark Bitz had worked out a formula for doing business in a more humane fashion, and for eight years prior to the sale, Plainville Farms didn't have to medicate a single bird. The new owners have continued the tradition Bitz started.
"When we looked at Plainville, we realized that this is what American consumers want, a product with a meaningful point of difference. It is better for you, and it tastes better," said Reed. "Growing birds without animal byproducts and antibiotics in a humane fashion is what this company is all about."
Because the product mix offered by Plainville Farms was more extensive than what the former Pilgrim's Pride offered, the company had to invest in additional equipment to bring the New Oxford plant up to speed, and it had to educate staff on the quality criteria Plainville followed. Reed said creating quality incentives and rewarding staff for going without quality failures or customer complaints is a critical part of the puzzle.
"If you focus just on productivity, quality and safety are not natural byproducts of that focus," he said. "We recognized that incentivizing our staff around quality and safety meant we'd see quality, safety, and productivity. If people recognize that you care about them and their work, productivity comes naturally."
New opportunities
The transition from the original Plainville Farms plant to New Oxford doesn't mean the New York plant closed its doors. On the contrary, it was redesigned into a kosher poultry plant. Last December, Hain Pure Protein announced plans to expand the Plainville facility as part of a strategy to keep up with increasing demand for natural, antibiotic-free, vegetarian-fed, kosher poultry products. After modifying the plant to meet kosher standards, it reopened in February, offering a new line of kosher chicken and turkey products.
"Plainville Farms had always been a turkey plant, and now it is primarily a chicken plant for kosher that also does turkeys. In doing that and transitioning from Plainville Farms to what we now call Kosher Valley, we were able to keep full employment," Reed said.
With these changes, the company solidified the foundation of the original Plainville Farms and the new Plainville Farms, renewing its commitment to the development of new products and growing the antibiotic-free market. Merging operations into the New Oxford plant allowed expanded product lines as the company is no longer constrained by capacity or an inability to focus on product innovation. The company is launching new lines like marinated tenderloins, turkey patties, turkey sausages, and a wide variety of processed pre-sliced products and bulk deli products. It has also become the nation's supplier of antibiotic-free ingredients.
"Anyone out there selling an antibiotic-free product is buying the meat from us because the turkey we produce is not only antibiotic-free but it meets all rigid quality specifications," said Reed. "So we've been able to innovate in terms of offering new products and supplying the industry with ingredients."
Another way the company is expanding its market is by helping consumers to understand that antibiotic-free poultry is its own category, different from organic, natural, and conventional categories. One way it can do this is through high-profile affiliations. This October, Hain Pure Protein and Martha Stewart Living Omnimedia announced the launch of a Martha Stewart branded whole turkey, partnering Plainville Farms with the food industry icon.
"This year, we are producing Martha Stewart turkeys for the holidays, and next year we'll have a wide variety of products offered under the Martha Stewart brand, many of which are now under development," Reed said.
Reed feels the company can adequately serve the eastern two-thirds of the US with the New Oxford facility, which has the ability to more than double its current capacity. Although many consumers have been tightening their purse strings during the recession, the strength of the brand has allowed Plainville Farms to continue to expand its distribution network and footprint as many grocers and consumers are realizing the value and quality the brand represents.
"We were concerned the economy would be a major barrier to our growth, but we were pleasantly surprised to find that people have traded down, but not from antibiotic-free turkey to conventional turkey. They've switched from beef and pork to antibiotic-free products we offer," said Reed. "We think when the economy recovers, we'll see an even greater rate of growth because more consumers will be looking for the kinds of products we offer."