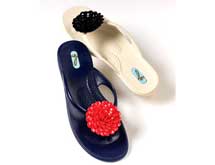 When looking for style, comfort, and affordability in a pair of shoes, look no further than this Georgia-based manufacturer. For many women, the chance of finding a comfortable pair of shoes under $50 is rare. Add any style requirements, and the chance of finding what you want is practically impossible—that is, until Oka b. came into the picture.
Founded five years ago, Oka b. is a spin-off from sister company Okabashi, which just celebrated its 25th anniversary. Although Okabashi had been successful at providing great quality comfortable shoes, the fashion piece of the product was missing. In addition, Okabashi shoes are distributed primarily to drugstores and grocery chains.
"We decided with so many people loving Okabashi shoes that we could capture the market in a more fashion-forward way," said Kelly Schmidt, vice president of Oka b. "We developed new colors and styles and added attachments but kept the foot bed that's made the Okabashi brand so popular."
Doubling up
Oka b. products are made of a proprietary technology called Microplast, which brings the comfort element to the shoes. In addition, Oka b. shoes are designed using therapeutic principles of reflexology with an ergonomic foot bed enhanced with massage beads.
Each pair of Oka b. shoes comes with a two-year warranty, is priced under $40, is made in the US, and is vegan friendly, meaning no animal by-products are used and the company's manufacturing process are environmentally friendly. With all of these positives on its side, it is no wonder Oka b. has seen tremendous growth year after year.
"It's always great to double and triple your sales your first year, but it's also easy to do when you don't have many initial sales," said Schmidt. "We've continued to grow every year and even doubled our size this year again."
Part of the company's growth stems from its expanding list of independent boutiques and gift shops. Oka b. also sells to golf clubs, resorts, spas, specialty stores, and even a couple of department stores. The company recently expanded outside of its US territory and has seen tremendous international growth this year in distributing to Asian markets, specifically Japan and Singapore.
"We brought someone on last year to help us develop international business ties, which we had never focused on," said Schmidt. "We also have great distributors, and they have been great partners for us overseas."
Schmidt said the majority of the distributors Oka b. works with became affiliated with the company because of its Web marketing and Web PR efforts. The company has been picked up by blogs in Japan, the Philippines, Singapore, and Vietnam, which spurred distributors to contact Oka b. "We followed up, made trips back and forth, and got those distributors set up to handle our products," she said. "It's been a very successful venture."
Necessary investments
Oka b.'s continued growth has made it necessary for the company to invest in human resources and equipment. In addition to hiring someone to handle international sales, the company has grown its domestic sales force from two people five years ago to 20 people today.
The company's manufacturing facility, which is located just outside of Atlanta, Ga., has also grown, and Oka b. recently added multiple machines to handle the increase in sales. With the growth the company has seen in the Asian markets, the additional machines are necessary from both a numbers and a style perspective.
"A lot of the shoes we sell to that part of the world are smaller in size, so we've had to add multiple smaller size molds, whereas in America, people's feet are getting bigger and bigger," said Schmidt.
Although other companies might worry about losing control of the quality of their products with such extensive growth, it's quite the opposite for Oka b. The company recently hired someone to oversee its molding processes. With the current job market, Schmidt said finding top-notch talent willing to take a chance on a smaller company hasn't been very
challenging.
"We've been able to get some great people in here, and, if anything, our quality has improved," said Schmidt. "From the start, we've been kind of crazy about making sure we only produce the highest quality product."
Reaching out
With quality and affordability already built into Oka b.'s business platform, the company has been using social networking sites to create a buzz about its products. Oka b. has followings on Facebook and Twitter and regularly sends out e-communications to consumers about the newest styles for the upcoming season.
People who sign up to follow Oka b. are also privy to information about the products before the rest of the buying population. For example, members of Oka b.'s Facebook page got to see the current summer collection a week before anyone else.
"The Internet has been a great way for us to talk directly with our end users," said Schmidt. "It prompts them to buy online, but it also helps us understand who our customers are, what they want from us, and what they want from their shoes."
In addition to listening to what customers want, Oka b. has a four-person design team that not only designs the shoes inhouse but also travels around the world to track fashion trends in places such as Asia, New York, Paris, and London. The company takes a collaborative approach when designing each line by including the sales team in the process, enabling team members to give input, communicate what feedback they've heard from customers, and let the design team know what is and isn't selling well in the current line.
"We're all about communication," said Schmidt. "As we've grown, communication is something we've had to focus on more because there we've grown so much in the past five years."
Communication is key when dealing with the independent boutiques and retailers that sell Oka b. products as well. Because of its extensive production capabilities, the company is able to ship most orders within 48 hours, just one more element that Schmidt said keeps Oka b. ahead of the rest in the fiercely competitive world of retail.