Olivia Wilde Joins Avon as the New Face of "Today. Tomorrow. Always." Fragrances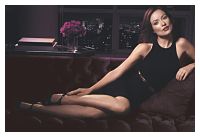 Sept. 17, 2013 – Beginning this fall in the U.S., actress and activist Olivia Wilde will serve as the face of Avon's "Today. Tomorrow. Always." trio of fragrances. A modern icon of beauty, Wilde's enduring appeal perfectly complements this timeless fragrance series.
First launched in 2004, "Today. Tomorrow. Always." has become a set of Avon classics that is designed to evoke strong feelings of true love. As the brand approaches a decade, Wilde's timeless allure makes her the ideal face of this classic, yet modern collection.
"I am honored to be partnering with Avon as the face of the Today. Tomorrow. Always. fragrances," explained Wilde. "The collection is made up of fragrances that are true classics, yet modern and fresh at the same time."
"Olivia is an aspirational example of a woman who embodies beauty both inside and out," says Meg Lerner, Avon Vice President, North America Marketing. "Her passion and dedication to helping others makes her a perfect fit for Avon."