Opposing Trends Drive New Product Development at SeaWorld Parks & Entertainment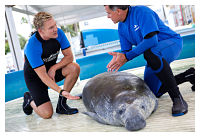 June 7, 2013 – When the 2013 Licensing Expo kicks off in Las Vegas June 18, SeaWorld Parks & Entertainment will debut a product line-up designed for today's time-starved, tech-reliant consumers, including a marine animal-inspired mobile app game. But the company also is developing products that align with the simpler pleasures in life, recognizing consumers' growing fondness for tradition, nostalgia and real-world experiences that connect them to people and nature.
"There's an interesting dichotomy in consumer buying trends that's been emerging for the past several years," said Chief Creative Officer for SeaWorld Parks & Entertainment, Scott Helmstedter. "Consumers remain fascinated with technology for new ways to learn, be entertained and enhance their lifestyles. Conversely, they also crave the comfort of familiar strong emotional stories and nostalgic products that create deeper connections to the world around them."
At the Expo, a prominent licensing show that attracts more than 5,000 top-tier brands, licensors and licensees, SeaWorld plans to promote products that demonstrate the company's active involvement in animal rescue and rehabilitation. According to Trendwatching.com, consumers expect companies to "go beyond uttering lofty statements on 'values' or 'culture' to real, unambiguous and clear evidence … about actual results." As an example of products that demonstrate this deep commitment, SeaWorld launched its popular TV series, Sea Rescue and a new Saving a Species DVD collection – both of which give consumers a first-hand view of the company's rescue, rehabilitation and release programs, and also conservation efforts all over the world.
"We've had a tremendous response to our products that tell SeaWorld's heartfelt stories of helping rescue, rehabilitate and release wild marine animals." Helmstedter said. "Consumers connect with the emotions and passion of real people, and appreciate companies that give back."
Technology is a top driver of product innovation for SeaWorld, as consumers show no sign of waning interest in devices and applications. In fact, a survey released in March 2013 showed 79 percent of Smartphone users reach for their devices within 15 minutes of waking up, and most (62 percent) grab their phones immediately (IDC, March 2013.)
In a product development arrangement with Sleepy Giant, SeaWorld recently introduced Turtle Trek, a fun, immersive mobile game featuring a plucky sea turtle that conquers a variety of challenges and discovers new friends in an ever-changing seascape. Based on the success of this game, the company plans to produce multiple kid-centric digital games and apps.
In a nod to trends of nostalgia, SeaWorld has teamed up with Palmer Cash to offer vintage-style t-shirts in select Nordstrom stores and at Nordstrom.com. The new shirts feature retro-designed iconic SeaWorld animal characters including Shamu, an ultra-cool polar bear, a charismatic sea lion and even the original SeaWorld logo from 1964.
The company also is introducing classic toys such as animal-themed puzzles.
Also tapping into this demand for simpler pleasures, the company is introducing new lines of entertainment such as TV shows and home entertainment products that families view together.
SeaWorld's popular family-oriented TV series, Sea Rescue, airs Saturday mornings on ABC and immerses viewers in SeaWorld's inspiring stories of real marine animal rescues. The popular TV series attracted more than 27 million viewers in its first season, and continues to be rated number one in its timeslot for numerous major U.S. markets. This spring, the show won a Parent's Choice Award and its host, Good Morning America's Sam Champion, received a Telly Award.
The first three titles of Saving a Species, a series of home entertainment DVDs, featuring stories about the conservation of lions, tigers and elephants, is currently sold at select Target stores nationwide.