LG And Ubitus Unleash Console-Quality Gaming Experience In Latest Smart TVs At E3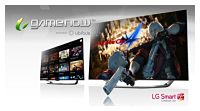 June 10, 2013- LG Electronics (LG) and Ubitus Inc., a worldwide technology leader in cloud gaming solutions, today announced at E3 that GameNow cloud gaming service will be available in the latest lineup of LG Smart TVs. Customers who purchase a new LG Smart TV model in the United Statescan start enjoying a rich library of AAA and massively multiplayer online (MMO) titles right away.
GameNow turns LG Smart TV into a powerful game console, bringing consumers the video gaming experience previously unavailable on home TV units before. Without the hassle of loading discs, time-consuming downloads and long installation times, consumers can now play console-quality video games on demand, including blockbuster titles such as Street Fighter X Tekken and Batman: Arkham City that usually require high-end hardware to play.
"LG is constantly striving to bring consumers the best home entertainment experience possible directly through LG Smart TVs," said Richard Choi, senior vice president of the Smart Business Center at LG Electronics. "By utilizing GameNow gaming technology powered by Ubitus in our latest Smart TV lineup, our customers can enjoy blockbuster video games on demand without purchasing a dedicated gaming console."
"We are thrilled to team up with LG to make cloud gaming an integral part of the new consumer TV experience," said Wesley Kuo, CEO of Ubitus. "We believe consumers will be amazed at how effortless it is to enjoy console-quality games directly and instantly on their LG Smart TVs. Select, click and ready to play, just like the way they've been enjoying video-on-demand services."