Global Smurfs Day Returns Saturday, June 22, 2013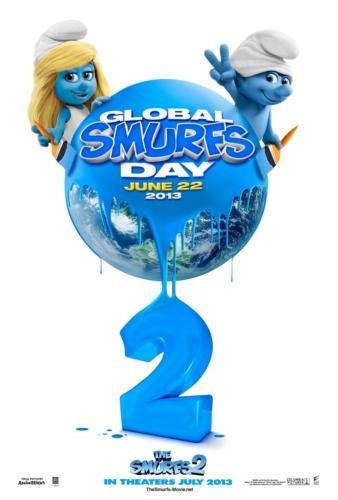 June 10, 2013 – On Saturday, June 22, 2013, in celebration of the birthday of Peyo, the creator of the Smurfs (born June 25, 1928), Columbia Pictures and Sony Pictures Animation will once again coordinate events all over the world as part of Global Smurfs Day, a worldwide event in anticipation of the release of The Smurfs 2, in theaters July 31, it was announced today by Marc Weinstock, president, Worldwide Marketing for Sony Pictures.
This will be the second celebration of Global Smurfs Day in what is quickly becoming a tradition. In 2011, the round-the-world events included painting one of the famous White Towns of Andalusia blue and setting a new record for Largest Gathering of People Dressed as Smurfs within a 24-hour Period (Multiple Venues).
This year, the studio has lined up an equally impressive program of events, highlighted by a worldwide Smurf Ambassadors initiative, in which over 40 ambassadors from 28 countries will represent Smurfs fans from around the world with a special day of events celebrating Peyo's creation. The ambassadors – celebrities, prominent journalists, and contest winners among them – will dress as Smurfs as they begin their day in Brussels, where Peyo's daughter Veronique Culliford will officially appoint them as Smurf representatives of their countries. The fun-filled (if irreverent) ceremony will take place under the watchful eye of an important Brussels monument: a Smurf statue unveiled just a year before. Freshly charged with their ambassadorial duties, the group will board a Thalys train and shoot off to Paris, the locale of the adventures in Columbia Pictures / Sony Pictures Animation's The Smurfs 2. With a few surprises in store and a sightseeing tour of the French capital, the ambassadors will be tasked with a mission that is the stuff of high diplomacy: to leave a happy trail of blue smiles in their wake, and herald the arrival of the new film.
The Ambassadors will also be taking photos and posting them on Instagram with the hashtag #GlobalSmurfsDay. The Ambassadors' photos will stream to the official Global Smurfs Day microsite at www.GlobalSmurfsDay.net, where users can also virtually check in to Global Smurfs Day activities and find information about all worldwide events, official photos, and a sizzle reel.
Festivals and celebrations will be dedicated to the Smurfs in locations as far and away as the Buenos Aires Planetarium, Mumbai's Imagica theme park, and Rio de Janeiro's iconic Sugarloaf Mountain. Blue brushes will brighten Portugal's Cova da Moura neighborhood and paint daycare centers and orphanages in South Africa. In Australia, Surfers Paradise will officially become Smurfers Paradise for the day, with local signage to match. Moscow's famed Gorky Park and Dublin's Ha'Penny Bridge will be covered in smurf-blue flowers. Smurfs will visit children's hospitals and media centers; invade Warsaw's Old City Square; engage in sand sculpture marathons; run Smurfathons around the world; and kick off a massive sing-along with the group Right Said Fred in London. And in Los Angeles, families will enjoy the day with appearances by the Smurfs, play the Ubisoft video game, sample Menchie's Smurfberry frozen yogurt, and participate in other fun activities; in addition, the U.S. Forest Service and Ad Council's Discover the Forest campaign will be on hand to distribute activity booklets and encourage children and their families to get outside and experience the many benefits of nature, and in the evening, families will be able to catch the first Smurfs film at an evening outdoor screening.
Commenting on the announcement, Weinstock said, "We're thrilled that we can continue the tradition we started on the first film with an all-new Global Smurfs Day celebration. This is a great way to honor Peyo's birthday and his legacy, by bringing the world together across generations for a day of fun and festivities."