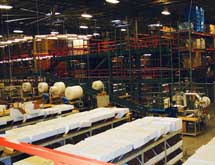 This e-commerce Web site is celebrating 10 years in business with growth and a rich corporate structure. In the 10 years since it was launched, e-commerce retailer Overstock has had its fair share of battles. It started out as one of a few in the online retail sector, struggled to build out the foundations of a company blazing new trails, and then developed a distinct brand that set it apart from other Internet players that eventually joined in the fray.
Next came the dot-com rise and fall, followed by a recession that hit home late last year. Overall, Overstock successfully rose above these challenges and even posted positive growth in '08. The secrets to the company's success? According to founder, chairman, and CEO Patrick Byrne, it comes down to maintaining a lean business structure.
"We're very cost-conscious," said Byrne. "We've built fundamental value in the business, focusing on what our consumers want, and finding the least expensive way to provide it."
Main brain investments
Overstock also maintains an unfailing focus on educating the 1,000 employees that work behind the scenes to bring consumers the lowest prices possible without sacrificing customer service. The company's culture is entrepreneurial in that employees understand the mission of the company, which is to bring outlet mall prices to consumers via the Internet, and are given the tools, information, and freedom to do what it takes to get their jobs done.
Although many retailers felt their biggest financial struggles in the past year, Overstock's struggles started in '06. As a result, as other retailers are just starting to focus on leaning up their organizations, Overstock has processes in place to keep its operations running smoothly. On the human resources front, Overstock hired a retired Army colonel who now runs the company's human capital development and HR Programs. Under his guidance, Overstock built a classroom and put all of its employees through a rigorous education regimen.
For every job in the company, employees are required to take a general set of courses, such as business English, business etiquette, business accounting, etc. As employees move up in the company, the classes focus on more advanced topics, such as finance, leadership, and strategy. Job-specific classes also exist. For employees in the purchasing department, for example, required classes cover negotiation, margin calculation, and inventory control.
Coupled with the implementation of lean business practices, when it was struggling the most, Overstock was able to ask its employees to make their respective departments 20% more efficient and know the results it wanted would be found. "We expect a lot out of our employees," said Byrne, "but we've invested a lot in our employees as well.
Mining for gold
Data warehousing was also a lifesaver that helped Overstock reach a successful turnaround. Longstanding business partners helped the company find the answers it was looking for.
Teradata Warehouse, for example, provided the company with data warehousing tools to do analytics on what customers are looking for, finding patterns that enabled the company to close any gaps in what customers found on the site and what they were looking for. "Napoleon said, 'Time spent in reconnaissance is seldom wasted,'" said Byrne. "Reconnaissance in our business is analyzing data, finding patterns, and improving our site based on what we find."
A second vendor, Omniture, a Web analytics and online business optimization company, helped Overstock with site analytics. ChoiceStream, a company that delivers personalized display ads and product recommendations, helped Overstock increase purchases and customer engagement, while SiteSpect, another Web analytics company, helped Overstock test site configurations to incorporate them into a cleaner site design.
Using outside expertise to solve problems rather than trying to build solutions inhouse is another way in which Overstock leaned up its organizational structure. By integrating best-in-class solutions coupled with a homegrown but outstanding customer service platform, the company rose two places to become number two in customer service, second only to LL Bean.
"The NRF American Express poll, which calls 8,000 households and asks them what companies give great customer service, ranked us number two in customer service of all retailers in America," said Byrne. "People come to us, get great discounts, and can count on fantastic customer service."
The best idea
Overstock has two tiers of customers in its service platform. Consumers looking for sale prices of name brand items comprise one tier, and the name brand companies and vendors looking to liquidate their overstock and turn it into cash quickly are the other.
Because it's been in business for 10 years, Overstock can offer these vendor customers a higher level of expertise in figuring out what is the best price to sell overstocked items. As a result, rather than soliciting companies and selling the service of liquidating their goods, vendors are now knocking on Overstock's door looking for a good channel to clear out their products.
The company has also branched out into newer territories, such as its Worldstock store, which carries the work of third world and developing-world artisans, most of whom are women. The high-quality, boutique-level products at Worldstock, which was developed in 2001, give Overstock a chance to knock out the many layers of middlemen that often come between artisans and their profits. Now a $20 million business, Byrne considers Worldstock the best idea he's ever had.
"Worldstock is consistent with our brand, which is that we're all about justice and standing up for the little guy," he said. "In 2010, we're furthering our entrepreneurial spirit by launching a "green" store. Although there might be other one-stop "green" shops out there, we wanted to bring one to Overstock as it fits in with our mantra of encouraging development in a sustainable way."