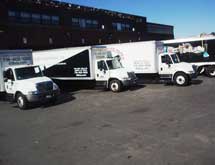 This family-owned disposable and janitorial products distributor relies on an informed sales force and exceptional technology to meet customer needs. In the words of Jordan Sedler, president of Paper Enterprises, Inc. and son of founder Herbert Sedler, "There's nothing high-frills or hi-tech about the products we provide. You eat and go to the bathroom every day, and we're right there to make sure those products get to you when you need them."
Founded in 1961, Bronx-based Paper Enterprises specializes in distributing foodservice and sanitary supplies to four supply chain segments. In its first capacity, the company serves as a janitorial/sanitary and foodservice supply wholesaler to distributors under the name Consolidated Paper Company.
In its second capacity, the company sells to national account chains in the real estate and foodservice businesses, such as Jones, Lang, LaSalle, Cushman & Wakefield, ChefMod, and HMS Host. In its third and fourth abilities, Paper Enterprises sells to retail stores in the party goods, variety merchandise, and dollar industry segments and is an overseas distributor consolidator.
Paper Enterprises offers retail stores its extensive product offerings and frequent delivery schedule. These services allow retail stores to increase revenue by turning storage space into selling space and offer a wider range of products.
Partner collaboration
The kinds of products the company distributes across New York, New Jersey, Pennsylvania, Connecticut, and Long Island, namely "Made in the US" brand-name sellers such as Dart, Kimberly Clark, and SC Johnson, haven't changed in the past 47 years. What has changed is the relationship the company has with its vendors.
Where it used to be primarily relationship-based, today, Paper Enterprises functions more as an extension of the manufacturer's arm, and often the arm isn't connected to the rest of the body. "There used to be better alignment and communication between the manufacturer and the distribution partner, but today you're dealing with corporate entities," said Jordan.
"Which is why partner collaboration is more important today then it was when I founded the company," continued Herb.
With that understanding, technology has become a major player in Paper Enter-prises' business. From storage and movement of products through ordering and distribution, each of the company's processes are synched to ensure that both Paper Enterprises and its customers are doing business in the most effective way possible.
Paper Enterprises' newest venture is an online catalog that enables customers to drill down into specific details about each product and complete orders online. The company is also making a final decision on which CRM system to invest in.
Paper Enterprises' differentiator, said Jordan, is marketing. To market more effectively, the company needs more comprehensive customer information to help its sales force, which numbers 20 outside and 10 inside, to better meet those customers' needs.
"We don't like to get seduced by bells and whistles that don't apply to us when we look at technology," Jordan said. "In the case of a CRM system or the online catalog, we put ourselves in our customers' shoes and think about what information our customers need and want and try to buy a package with that information."
Intellectual challenge
The database will also allow Paper Enterprises to further segment its customers by market and better inform its sales force of the interests, evolutions, and challenges of each. By understanding these elements, the company can help its customers become more productive, efficient, and ultimately help them sell more products.
"When you drill all the way down, it's still a people thing; it's still our sales force and customer service people who are challenged to be technologically sound, to know what they're doing, and to know our products and what they can do for our customers better than anyone else," said Jordan.
"It's a matter of helping our customers make money," added Herb. "We ask our customers many questions so we can help and be more effective in communicating to them."
In 2005, Paper Enterprises moved into a new 175,000-square-foot building and increased its new-product inventory by about 20%. To keep employees educated on these and other changes, the company holds regular sales meetings. It has a large showroom where new products are displayed and features and benefits explained to employees. The company also invites manufacturers in to educate Paper Enterprises employees.
"We have a reputation with our vendors of being very good marketers and communicators, so we are often brought new items early in the cycle to go out there and pave the way," said Jordan.
Each of Paper Enterprises' roughly 100 employees is equipped with Nextel mobile devices so their assigned customers can reach them any time with questions or concerns. As a New York-based company, Paper Enterprises is in a different world from most in terms of the diversity of its client base. This is where, once again, having a strong CRM system comes into play.
"So many of the independent retailers in our area are owned by a specific ethnic group," said Jordan. "They want to find a wholesaler of their ethnicity so they can understand the language and the culture."
Paper Enterprises drills down to know who supplies the Afghanistan market, the Korean Market, the Chinese market, etc., and offers that information to its customers and vendors. "It all comes back to databasing for our customers so we understand what will be useful and effective for which customer base," said Herb.
Strength in adaptability
Much has changed in the distribution world since the elder Sedler founded Paper Enterprises in 1961, and adaptability has played a key role in ensuring the company continued to thrive. In 1968, when national account chain business was growing, Herb sought out Network Services Company, a conglomeration of 80 companies that serves customers with multi-unit facilities around the world, to ensure his company was in the best position to serve these corporations.
After Sept. 11, it was the ability to change its distribution practices, continuing delivery to airports and putting trucks on the roads at night. Today, adaptability translates into green initiatives, distributing recyclable, biodegradable, and compostable products. And like so many of its business practices, Paper Enterprises' green offerings cater to its customers' specific needs.
On the sanitary side of the business, the company has LEED-certified sales people to help customers meet the requirements for LEED credits. It's also introducing new cleaning systems that offer both green and hygienic solutions to today's problems.
"We're collaborative, and we seek feedback," said Jordan.
"We hope to make our company better by listening to what our customers and our employees have to say and moving into the direction of those ideas we believe makes sense," Herbert concluded.