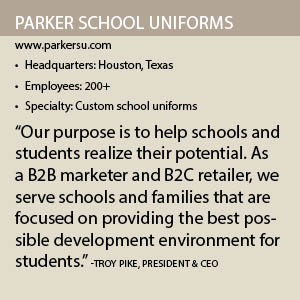 Parker School Uniforms works with its customers long-term and provides customized products for them in either small or large quantities. "Our model is unique. We develop customized and exclusive uniform programs for schools, and then retail that merchandise to the families attending the school," Pike explains. "In the end, we don't get paid until the consumer, or the students of that school, buys from either our online store or retail location. So we have a dual customer in the educational institution and then a business-to-consumer relationship with the families and students that buy from us. That customer triangle creates unique challenges in the customer experience."
Keys to Success
Noting the company's 67 percent growth over the last seven years, Pike says Parker School Uniforms' focus on customer service has allowed it to "step in and win" schools organically from competitors.
"This is a generally small niche served primarily by mom-and-pop stores," he says. "We win by providing easy omni-channel buying options and our guarantee to be in-stock and fit any child, no matter what the size. We provide high-touch service in convenient stores, and low-pain online solutions. In our case, we're able to bring more merchandise options, more locations, more inventory and more accessibility to our customers. "
Though all of those factors have contributed to the company's success, Pike adds that the company's employees have played a critical role as well. "We have people that truly care and that is the single biggest difference by far in our success," he says proudly. "We have great people that have an unwavering commitment to take care of students, and ensure every student is in a quality, well-fit uniform on the first day of school.
"Our engaged and caring employees are really the basis for our culture," he continues. "That word 'caring' is what drives people to do things like deliver uniforms in the middle of the night or provide a private appointment for a disabled student. I think those extraordinary efforts to provide great experiences are an important part of how we go to the next level with our customers. It is not just about understanding the analytics better, but in the human sense of what we can do better to help our customers and their schools have success."
A Cut Above the Rest
Parker School Uniform is committed to fit every single customer. "We truly must be in stock because of the unique and highly customized nature of our merchandise," Pike says. "We promise to have your uniforms in-stock year-round. Or, we will find them or make them, and then we will ship them for free. That is a truly unique proposition for an apparel retailer.
"For example, we partnered with a charter school a few years ago that had decided to adopt school uniforms," Pike continues. "They asked us to support a fashion show to showcase the new look to their students and families, and sent us the sizes and measurements of their students six days before the show. One of the measurements was for a seventh grade girl who had a 54-inch waist. We didn't have anything on the shelf to fit her, but within that timeframe we made pattern, cut fabric and made a skirt and blouse that looked exactly like the other skirts all of her peers were going to wear. So because we were nimble and we cared, she was able to participate in the show and feel like an important part of the school."
Because of Parker School Uniforms' flexibility and reputation for exceeding customers' expectations, the majority of its business is referral based. "That could include a school administrator who has moved to another school and recognizes they are not getting the best school uniform service for their families," Pike explains.
Unlike most retailers, Pike adds that the school uniform business is "incredibly" seasonal. "People who have worked in other parts of retail that join my business here notice quickly that it's different," he says. "We do more than half of our business in about six weeks. During that six-week period, when kids are getting ready to go back to school, we have already been preparing since the beginning of the year so that we have the right stuff at the right place at the right time. We also scale our workforce from 200 people to 800 to meet that seasonal demand."
With a sewing plant in Houston and more than 100 suppliers, some of whom are located overseas, the company's supply chain efficiency and flexibility is front and center on a daily basis, according to Pike. "We started global sourcing in 2010 and have developed strong relationships with our overseas suppliers where they really operate as an extension of our business," he explains. "They understand the critical nature of our timeline. Traditional sourcing relationships don't lend themselves to quick response replenishment in very small batch sizes. What we have developed is a bit of a unicorn in apparel manufacturing. However, we still manufacture and decorate merchandise on a year-round basis in our Houston plant. Responsiveness is critical."
Streamlining Processes
Parker School Uniforms soon will complete a system upgrade and implement a new ERP system. "We were early in adopting a truly integrated multi-channel retail approach,' Pike says. "We have had cloud-based merchandising and POS systems for over a decade, and a fully integrated website enabling fulfillment from stores. Now that we are larger and vertically integrated, we need more system capability to provide efficient but extraordinary customer experiences.
"That is why we are implementing Netsuite," he continues. "It will enable us to manage the many very unique and custom workflows across every division of our enterprise by providing visibility and actionable information that we simply don't have today. Our customers are going to be the real beneficiaries as everything that we do gets faster, and information improves. We will do virtually everything on the NetSuite platform: Inventory planning and management, POS, Web, CRM, Order fulfillment.
"We are also implementing a guided, web-based, point of sale solution that will enable our Prime Time associates – our name for seasonal hires – to access school specific and personalize information at the click of a mouse," Pike adds. "There is a CRM module as part of that, so we'll be enhancing replenishment and inventory management. In addition, we're also implementing an order management system. So all of that will be coming to bear for this back to school season."
Those initiatives will make the company's operations more efficient, seamless and streamline its processes, Pike notes. "We want customers to be comfortable dealing with us in their channel of choice," he explains. "The accuracy of the information we provide online, at mobile stores and in our retail locations, is the cornerstone of the customer journey. School uniform programs can be complex, and families rely on us to be the expert on their behalf.
For the company, editing and managing that buying interaction for customers so that they buy the right merchandise is really important. "Our customers count on us to sell them only what they are allowed to wear with their grade level—and that can vary by day of the week," Pike says.
In other words, the management of each customer's information is a "complex process for a small company like us," Pike notes. "So we don't just sell 18 colors of polo's; we sell 18 colors of polo's in 20 sizes that all may be embroidered up to 4,000 different logos," he says. "A school may also have a different logo for a different campus or different grade-level. That customization is really critical to our business. So we're streamlining our processes through workflow and technology so that we can have visibility to everything in the pipeline that allows us to take time out of the service model."
Parker School Uniforms has been using customer data to drive its uniform programs and merchandise for years, Pike adds. "CRM at Parker includes B2B prospecting and relationship nurturing, as well as big data type analysis on customer shopping behavior," he says. "With the richness of our data and extremely broad SKU count, the possibilities are endless. Using data to improve service and enrich our B2B and B2C relationships is a core focus. As customer expectations quickly evolve, we need to continually improve to become for JIT and more mobile for our customers.
"We've been a wholesaler and brick-and-mortar-based model for most of our history, but over the last few years we have started doing seasonal stores – about 150 a year right now – where we pop-up on a short-term basis on a school campus or temporary retail location, for example," Pike continues. "In doing so, we make the professionally managed school uniform business available in more markets. This is going to allow us to more than double our business over the next five to six years.
"There are schools and students all across the country where their town cannot support a full-time uniform store, but they still deserve high-quality, durable uniforms and professionally managed programs," he concludes. "Those are the people we are uniquely positioned to serve, and in doing so, we will help the schools and students be their best."