People today live in complex worlds. They put in 60-hour workweeks while taking care of a family. Those kinds of services have become necessary luxuries, but ones that are attainable by the 99 percent. "We have to outsource a portion of our life where we didn't used to have to do that," Holland says. Penthouse's mission is to find ways to connect its globally recognizable brand with the millennial luxury lifestyle.
Cultivating a Lifestyle
The 2015 launch of Penthouse Spirits, a lineup of vodka, whiskey and fusion liquors, was an important step toward that goal. "We are about providing those luxury experiences and one of the most impactful ways we can do that is with brick and mortar," Holland says.
Penthouse is a 51-year-old brand that continues to evolve. If Playboy was a product of the 1950s and Hustler of the '70s, Penthouse magazine was emblematic of the Swinging '60s. Like 0Goldilocks' porridge, Holland says Penthouse found the right balance of eroticism and class between its competitors.
The company was bought by FriendFinder Networks in 2004. Holland, a former documentary filmmaker who began directing adult films in the 1990s, became the executive producer of Penthouse Films in the late 2000s. She managed the company's broadcast operations, which operate 10 channels around the world, and grew the division into half of Penthouse's revenue.
Penthouse may be a global brand, but it's one Holland says was underexploited. Holland formed Penthouse Global Media and acquired the brand from FriendFinder this past February. In her first few months at the helm, Holland and her team are experimenting and trying to figure out how to maintain the DNA of the Penthouse brand while expanding its market.
"The core essence of Penthouse is luxury lifestyle for men and the women they love," Holland explains. Liquor folds into that lifestyle. One of the things Holland has learned is that Penthouse lacked an experiential approach. The company does not operate its own stores, bars or restaurants and it has a limited presence on retail shelves.
In a world of 7 billion people, Holland says millennials crave authentic experiences. They want to drink at bars with 100 microbrews on tap, where the server can tell them every flavor they will experience and where those tastes come from. It's why Holland is planning a pub tour of the United Kingdom to research ideas for a Penthouse pub. She envisions a British theme that taps into '60s and '70s, the period of "Mad Men" and "Vinyl." "There is an incredible nostalgia for those times so I think cute girls in British schoolgirl outfits – you can't go wrong with that," Holland says.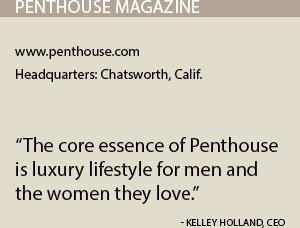 Standing on Its Own
Penthouse Spirits is another component of the lifestyle the company embodies. Like Holland's vision for a Penthouse pub, Penthouse Spirits is an authentic experience. The vodkas and whiskeys are produced by a 175-year-old distillery in the Netherlands, The Melchers Group, and brand marketing is handled by The Vault Spirits Co. and Inland Beverages is the brand licensee. The first three liquors – a vodka, a whiskey tequila and a Canadian whisky – were launched at the 2015 Adult Entertainment Expo in Las Vegas.
Since then, a pair of cherry vodkas, called Libido Libations, were added to the lineup. Libido Libations features two liquors, one aimed at men and the other women, each of which is infused with natural aphrodisiac herbs specific to each gender. "There's nothing like it on Earth that we know of," Vault Spirits CEO Jim Elliott sys of Libido Libations.
Elliott says that Penthouse has been involved in the support of the liquors but is willing to leave the branding, distribution and production of the beverages to the experts. "That's the strength of Kelly Holland and her team," he explains. "The fact that we're [Penthouse] licensing to you but we're also trusting you to maintain the high standards of our brand."
When creating Penthouse Spirits, Elliott says it was important to make sure the liquor stood on its own and was not dependent on the Penthouse name. It needed to be more than a logo; it needed to be quality whiskey and vodka. The Vault Spirits Co. and Penthouse are positioning the drinks as a high-end spirits brand, crafted well and pleasurable enough to drink neat. The Penthouse Spirits line regularly receive ratings above 90 points at spirits competitions and Libido Libations earned the silver outstanding medal for exceptional taste and the bronze medals for packaging at the 2015 International Wine and Spirits Competition.
Penthouse is about life on top, and Elliott believes Penthouse Spirits lives up to that idea. "We see ourselves as the brand that can extend that luxury experience to the masses," Elliott says. The Vault Spirits Co. and Penthouse are promoting the spirits at events such as the MTV European Music Awards and including bottles in gift bags for the Academy Awards and Grammy's. "Once you have established a foundation it allows you to explore other opportunities to expand the brand," Elliott explains.
Vault Spirits is strategically rolling out the beverages starting with the strongest liquor markets and getting retailers familiar with the product and its quality. Penthouse Spirits is now available in eight states and Europe, and can be also be purchased online through Liquorama. "The demand is what's going to drive the brand," Elliott says. "How you develop that demand is to build yourself success stories one state at a time and duplicate it going forward."
With a recognizable brand name backed by a high-quality alcohol, Elliott believes Penthouse Spirits can be embedded in the United States within the next two years. The early success and reception are an indicator that the line is realizing Vault Spirits' goal for a high-end product and Penthouse's desire to bring its lifestyle to the retail space. Already, Elliott says, the companies are planning to expand their relationship by introducing a few new flavors later this year.
"Penthouse itself has recognized that what we're doing on the spirit side is excellent for the overall brand equity of Penthouse," Elliott says. "We're working together on a sales and branding events timeline that will feature and highlight the brand both nationally and globally. Their acceptance of that has been encouraging."