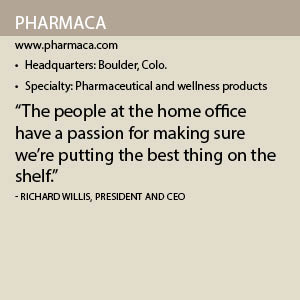 Over the years, Pharmaca grew to add locations in six states. Today, it has 28 full-service integrative pharmacies, a centralized compound facility and two wellness and beauty locations. "We've also got a warehouse in Boulder that services our online business and distributes to the stores," Willis adds.
Each location, he notes, employs people who are experts about the products they sell. "They're amazing in the knowledge they have," Willis says. "If you have a sleep issue, they'll talk to you about it and help guide you to make the best decision about your health."
Right on Track
Willis joined Pharmaca last year. "This is the eighth company that I've been a president and CEO of," he says, explaining that his specialty is in helping companies make financial turnarounds.
"For the first 15 years, Pharmaca wasn't making money, so that's why in January 2016 they asked me to come in and help with that," he recalls. "We made a decent margin last year, and hopefully we're on track to continue that upward trend."
In January 2017, the private equity firms that owned the majority of Pharmaca did a recapitalization and simplified the capital structure. "They put some money in and I put some money in to help propel the company forward," he continues.
These funds are being invested in the company's growth through the acquisition of other pharmacies. After it purchases a pharmacy, Pharmaca will change the location's storefront and bring in its lines of alternative and wellness products, Willis says.
Pharmaca recently bought and renovated a pharmacy in Chicago. "We changed over all the pharmacy systems and had it back up and running the following Monday," Willis says, adding that the company takes pride in quickly turning around its locations.
"During these transitions, it's essential that we continue to take care of our patients," Willis says. "You can't close down for a long period of time."
Pharmaca also recently acquired a location in Beverly Hills, Calif., and hopes to purchase up to six more stores. But the company has important criteria it follows with each purchase.
Not only must the location be a strong performer, but it also must be in an area "that we think is open to the concept of integrative medicine," Willis says, noting that this process is easier than opening a new store. "It's hard to get a new pharmacy to break even."
Stepping Up
Pharmaca continues to focus on the customer experience in its stores. "We like to think of it as an oasis when people come in," Willis says. "It smells good, the products are of the highest quality and they're on the cutting edge of ingredient research.
"That's really valuable to the customer," Willis says, noting that the company works hard to make sure it has the very latest products in its stores and available on its website. "We try to make our website as similar as we can to the store experience," he says, noting that two years ago Pharmaca assigned its head of marketing, Laura Coblentz, to manage its web presence.
"She was the right person," Willis says, noting that e-commerce represents 13 percent of Pharmaca's business. "It's profitable and provides valuable data for us as we look at other potential markets to go into."
In-store service also is a focus for the company. "We try to make sure that when somebody comes in the store, it's the best experience it can be," he says, adding that this service model was the main focus of its recent summit with store and pharmacy managers and lead practitioners.
Although Pharmaca has always had a good relationship with its customers, "We looked at what we're doing and said, 'We need to step that up further,'" Willis says. "[We're] making sure that our employees know how important it is to take care of those customers."
Going National
Willis is proud of his team at Pharmaca, including the employees operating its new Chicago location. "They're doing a terrific job getting the store ready to open as a Pharmaca," he says, adding that he would like to open more locations in the Windy City.
Pharmaca's plans also include selling the company, Willis adds. "Hopefully, we'll be able to put in some bigger brands and really make the concept explode onto the marketplace nationally," he says.