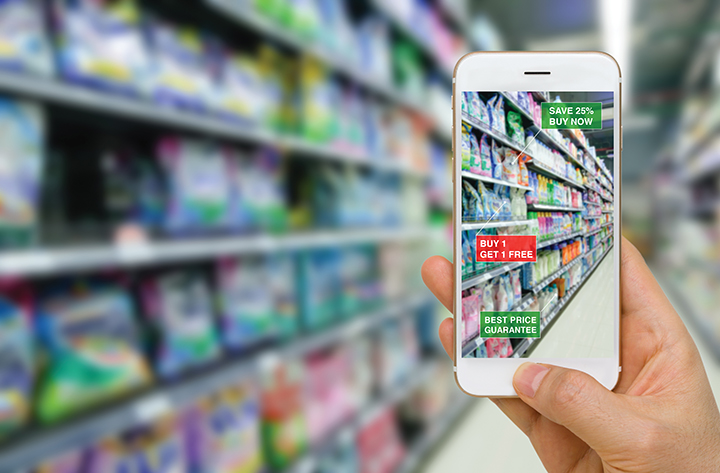 As digital devices play a larger role in grocery shopping, retailers are collaborating with trade partners to present accurate data that leads to brand loyalty. By Angela Fernandez
With digital devices now almost permanent fixtures in consumers' lives, an abundance of data about the products we buy is easily accessible from anywhere. As a result, consumers now expect companies to be more transparent and openly provide information about the products they sell.
While this is recognized by the retail grocery community as an opportunity for increased sales and loyalty, companies are challenged to provide consumers with complete and trustworthy information. Accurate data is the key to bolstering innovation in both the digital and physical spaces. Companies simply no longer have the time and resources to accommodate siloed, proprietary systems. With a lack of interoperability with external partners, these processes are becoming symbolic of a by-gone era.
Grocery supply chain partners are applying global standards to better align with consumer priorities. They are focusing on data quality, as well as consistency of product information and images to become more in tune with the emerging "phygital" state of grocery shopping. Let's examine each and uncover the ways that collaboration through standards will help drive the industry forward.
A Focus on Data Quality
Consumers rely on online information to make purchase decisions — this includes product descriptions from suppliers, distributors and retailers. Tolerance for incomplete or inaccurate data is essentially nonexistent. According to a Shotfarm study, nearly 90 percent of consumers say they would be unlikely to consider a retailer again if they provided incorrect information for a purchased product.
Until the online data explosion, data inaccuracies were simply thought of as the cost of doing business. Little attention had been paid to product listings that were typically between trading partners. Now, forward-thinking companies realize data is a strategic asset and a powerful tool in today's marketplace.
To address data quality challenges, supply chain partners from both the supply and demand side of the grocery business have collaborated in neutral working groups focused on achieving a higher degree of accuracy. Companies that leverage global standards for their own internal data quality initiatives focus on data governance processes to support continual, effective product data management. These companies understand the integrity of product data must be maintained throughout the product's lifecycle and at any point in the supply chain. Through quality data, consumers are provided with the validation they need to feel good about their product purchases.
A Focus on Consistency
While most consumers still prefer to make purchases in physical stores, they do their research online first. A new Food Network magazine study revealed consumers search for recipes (39 percent), check nutritional information (28 percent) and price compare (40 percent) using their smartphones in-store. Another recent study by Market Track noted consumers' huge affinity for Amazon — 87 percent shop the e-commerce giant, and more than two-thirds said they do so at least once a week.
With statistics like these, it's up to retailers to convey detailed product information across all channels to stay competitive. Industry leaders rely on a standard set of product attribute definitions so accurate information can be provided for consumers shopping via multiple platforms. These attributes are exchanged through an interoperable network called the Global Data Synchronization Network (GDSN) that allows brands to share product data with their customers and trading partners in real time. This includes crucial information ranging from trading partner details to consumer facing attributes.
With many partners leveraging one source of the truth, they can more effectively fuel the seamless online experiences that consumers have come to expect. Consistency across all platforms will be key to winning consumer loyalty as the marketplace continues to diversify with meal kit start-ups, click-and-collect options, and other new distribution and delivery models. This includes image consistency and accuracy, as visuals play an increasingly significant role in purchasing decisions.
Looking to the Future
Cultural norms, attitudes and paths to purchase are changing, and food companies recognize that they need to put the consumer' concerns first or risk losing sales. Analysts predict massive growth in the next three to five years in online grocery shopping, and retailers that embrace food transparency can grow sales up to 25 percent faster than their peers, according to IRI. New commerce options should not compete with traditional success — it is not "digital vs. physical." The two must work together for a seamless, frustration-free consumer experience. Those with a holistic point of view and standardized approach will be able to capitalize on new opportunities into the future.
Angela Fernandez is the vice president of retail grocery and foodservice for GS1 US. She collaborates with industry leaders and key trade associations to understand industry supply chain challenges, and address how the use of GS1 Standards can help solve those challenges.