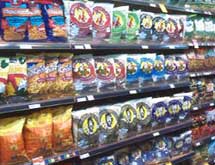 A recent corporate rebranding, combined with growth of more than 100% in one year, has this manufacturer on top of a snacking revolution. Formed in 1987, Pirate Brands has been focused on creating family-friendly, healthy snack foods since its beginning. Initially operating as Robert's American Gourmet Food, the company is headquartered in Sea Cliff, NY and has three manufacturers, two on the East Coast and one on the West Coast. Pirate Brands products are distributed nationally, but its top markets are on the East and West Coasts.
It was just this past October that Robert's American Gourmet Food changed its name to Pirate Brands, simultaneously announcing an investment partnership.
A clear vision
The name, Pirate Brands, is symbolic of the growth and evolution of the brand and its portfolio of products, representing the company's mission of leading the healthy snacking revolution by creating products for the whole family that are fun, all-natural, baked, and delicious. The vision will be applied to the company's product packaging, point of sale, and advertising efforts, as well as its Web site.
Pirate Brands is taking a multifaceted approach to getting product information in front of appropriate consumer groups. Pirate's Booty, not only for children, is a favorite of celebrities and athletes such as model/actress Ali Landry, singer Fergie, actress Denise Richards, actor Brendan Fraser, baseball player David Wright, basketball player Lisa Leslie, basketball player Paul Pierce, and Elisabeth Hasselbeck from "The View." It has been featured and discussed on network TV shows like "The Ellen Degeneres Show," "Accidentally on Purpose," and "The Jay Leno Show," as well as in a radio contest on New York's Z100 music station.
The products have also received plenty of attention online (Hungry-Girl.com, Fitness Magazine Online, Weight-Watchers.com, Brandweek Online, CNNMoney.com), in magazines (Us Weekly, OK! Magazine, Life & Style Weekly, Vegetarian Times, Kiwi Magazine, Baking & Snack, Snack World), and in books ("The Lost Symbol," "The Belly Fat Cure"). The media coverage the company and its products have received in the last few years is indicative of the success Pirate Brands is having in taking a multi-channel approach to marketing.
Handling growth
The company has seen a great deal of growth in the immediate aftermath of the partnership, growing from five people to more than 50 over the last 12 months. Pirate Brands hired 45 people after the partnership was established, and Serventi said those new hires have already shown a high level of dedication and passion about the brand and its mission by connecting with consumers and working closely with retailers and distributors.
"Our team has helped us accomplish these goals and the amazing growth we've seen over that past year, and it is only the beginning," he said. "We're taking the company to new heights with flavor innovation on Pirate's Booty, the development of Potato Flyers, and the continued support of Smart Puffs and Tings. In fact, sales have increased more than 100% in just one year."
As Pirate Brands works on ways to create, maintain, and expand relationships with distribution partners, Serventi believes partnership and communication are the keys to
success. By listening to the needs of each distributor and educating distribution partners on all Pirate Brands products, committing to innovation, and sharing success stories,
the company is confident it will see continued expansion of its distribution opportunities. In addition, the company works with retailers to assess customer satisfaction through open lines of communication with store managers and key contacts.
"With the overall success of the brand across all channels, it's evident to our retailers that customer satisfaction is high," added Serventi.
Simply the best
The critical difference in the long run for Pirate Brands is the emphasis the company places on product development and innovation. Serventi said that the company focus is to continue creating great new products that are consistent with its current line of snacks, as that has been a personal mission of the company's CEO since starting the company. It is also the reason Pirate Brands can lay claim to the title as the leader of the healthy snacking revolution.
Recently, Pirate Brands launched two new Pirate's Booty flavors—Pirate's Booty Sour Cream & Onion and Pirate's Booty New York Pizza. Both products have surpassed company expectations by becoming the number two and three SKUs after Pirate's Booty Aged White Cheddar in only a few months. There are now six flavors in the Pirate's Booty line.
"Sour Cream & Onion is made from puffed rice and corn blended with zesty onion and the fresh taste of sour cream," said Serventi. "New York Pizza is a great tasting, all-natural snack made from puffed rice and corn blended with tomato, real mozzarella cheese, and Italian spices. All Pirate's Booty products are all-natural, trans fat and gluten free, and have only up to 130 calories per one ounce serving."
In addition to the new Pirate's Booty flavors, Pirate Brands also released the Potato Flyers brand, the company's newest product line. The baked, all-natural potato chips have half the fat and a quarter less calories than leading potato chip brands. There are four Potato Flyers varieties (Original, Sour Cream & Onion, Homestyle Barbeque, and Sea Salt & Vinegar), and they are also trans-fat and gluten free with only 120 calories per one ounce serving.
Although the company has a new corporate identity, its success in providing healthy snack alternatives is undeniable. In fact, the main challenge facing the company right now is keeping up with consumer demand.
"Our products are flying off the shelves," Serventi said. "The consumer trend toward healthy snacking is increasing rapidly, so we just need to continue to keep the shelves stocked and to hold onto our position as the leader of the healthy snacking revolution."