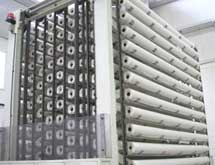 This privately held converter of household paper products uses innovation, expansion, and a quality-centric manufacturing process to remain competitive. A tissue isn't just a tissue for the folks at Global Tissue Group. The New York-based paper converter of paper towels; facial tissue; bath tissue; and one-, two-, and three-ply napkins is one of only a few in its industry that has the ability to provide three levels of quality: standard, premium, and ultra-premium.
Currently, the company is developing an extra-soft/ultra-premium TAD (through-air-dry) bath tissue that Philip Shaoul, CMO, believes will put the company's products in direct competition with brand names. He believes the advent of this new and improved product will enable Global Tissue to introduce a more competitive product offering to its private-label customers, especially since consumers are willing to trade up in this category.
"A significant benefit of private label is that it allows retailers large and small to have their own brand on their shelves," Shaoul said. "What Global Tissue provides is an opportunity for those retailers to be competitive at every level, on both quality and price, for every market segment."
Diversified strategy
The majority of Global Tissue's business is private label. Four years ago, the company expanded into promotional licensing and began working with the license owners for The NFL, MLB, The NHL, and The NBA for tissue products. The owners then picked up college team licenses, keeping Global Tissue as their only manufacturer and strategic marketing partner within that business.
Shaoul said this niche opportunity isn't for every converter because of the varying production volumes for each product. Most converters aren't able to cost effectively produce runs of 10,000 or 15,000 cases because they are designed for larger runs. Global Tissue's success, he said, comes from its ability to effectively cater to both segments.
"We aggressively went after the opportunity to create a program that enables the licensee to successfully roll this program out into the market," he said. "Because of our multiple lines and production efficiencies, we can schedule products that are similar in orientation to run together."
Global Tissue maintains adequate inventory for its private-label customers to provide them with on-time and on-shelf performance, preventing any chance that a client's product
will be out of stock.
"If a buyer's forecast falls short of actual sales and says, 'We should've bought two additional trailers of this towel product to do our promotion, which continues for another three days, is it possible for you to make it for us?' we are flexible in supporting those emergencies," said Shaoul. "The majority of converters out there would say no because it takes them too much time to schedule it into their production."
On the contract manufacturing side of the business, Global Tissue has been successful since it began more than a decade ago. Because of the company's focus on maintaining the confidentiality of projects, the opportunities, and the accounts, it developed relationships with some major national and multinational organizations.
Whether it's a capacity, support, or logistics issue, because of Global Tissue's locations in New York and Florida and its future site in the West, it's often easier for companies to test out a project with a converter like Global Tissue rather than doing it on their own. "Global Tissue's dedication to quality also plays a major role in winning contract manufacturing projects," said Shaoul.
"Because of their stringent processes and requirements, these companies have to certify your operations every year. Your quality has to be as good or better than their production at every level for them to trust you with their brand," he said.
Global Tissue keeps a diversified target audience between private-label and contract-manufacturing clients, its own control brands, and novelty and promotional items. "We like to be diversified because whenever there's a weakness in one segment of the business, it's strong in the other segments," Shaoul said. "Being covered in all areas has proven to be a great formula to move our business forward."
The right partner
In its infancy, Global Tissue saw 150% to 200% growth each year. In the past four years, it's seen between 23% and 28% growth year over year, including 2009 when it grew approximately 28% over its 2008 figures, despite large fluctuations in raw materials costs.
"There are companies today that have been in this business anywhere from 50 to 100 years," said Shaoul. "We've made some tremendous accomplishments with the
support of our employees, vendors, and customers."
With this growth came a need for Global Tissue to expand its operations, including a 168,000-square-foot facility on 11 acres in Jacksonville, Fla. and a new 170,000-square-foot facility built on 25 acres in Medford, NY. The next phase of the New York project will be an additional 130,000 square feet of space for future manufacturing. Global Tissue also has a 250,000-square-foot shipping and receiving facility offsite, which will be further expanded as well.
The new facility enabled Global Tissue to improve the business model of its manufacturing. "We've achieved a higher standard of operational technology by becoming more automated, which is key to growing our business efficiently and controlling costs," said Shaoul.
Global Tissue can now do faster and more efficient runs, which brings down its operating costs and helps relieve some of the pressures of the up and down raw material market. Controlling costs is key in the private-label segment, where price increases are few and far between.
"Raw material increases do impact our business, but cost controls help maintain our margins," Shaoul said. Global Tissue can now also address retailers' requests for eco-friendly packaging without sacrificing quality or incurring additional costs. And as Global Tissue evolves into manufacturing new product lines in the household category, its ability to create programs according to customer demands will give it a solid platform on which to grow.
"What sets Global Tissue apart from many of the other converters is that we create programs for our customers depending on where their market is, who their customers are, and what price points they want to reach," Shaoul said. "Once we have a retailer's confidence to build the category, we quickly prove ourselves to be the right partner to grow their business every year."