PlayScape Partners With Amazon to Provide More Mobile Games and Custom Content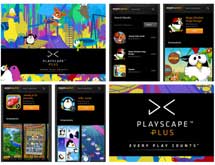 May 6, 2013 – Top Android-game publisher PlayScape has partnered with Amazon to expand distribution of its mobile gaming portfolio with a brand-new content platform called PlayScape Plus. Completely customized for Amazon's audience, PlayScape Plus features the best of the PlayScape's catalog, and serves as a launch pad for its newly published games. Launch titles include two selections from the popular Ninja Chicken series (a freemium and ad-free premium version) that boast 15 million downloads. An ad-free premium Bouncy Bill game is also available, as well as freemium and ad-free premium versions of Jewels and Diamonds Kingdom.
PlayScape Plus on Amazon exclusively houses select PlayScape premium games ad-free, and offers special discounts on all in-app premium items. Gamers will find the same popular mega-game experience in PlayScape Plus that's available in the PlayScape Platform—complete with transferable experience points and virtual currency across a wide range of games and levels.
"One of PlayScape's primary goals is to make the best games more easily accessible in today's mobile marketplace," said Amir Dinur, Vice President of Sales at PlayScape (formerly MoMinis). "Partnering with an expansive platform like Amazon definitely drives towards that goal of game discoverability, while also providing another avenue in our end-to-end development, distribution and marketing solution for developers."
PlayScape Plus is initially launching with 10 games including several of the most popular PlayScape games among its 40 million users. New titles will be added each week and more than 50 games will be made available by early 2014.