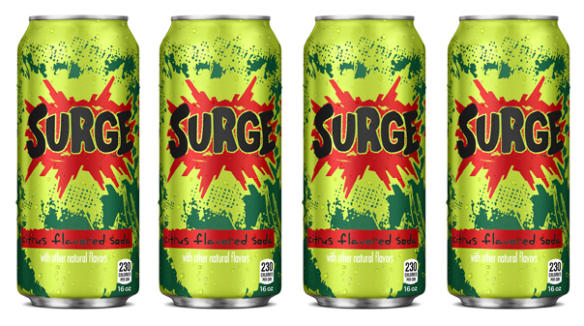 After 12 years in exile, SURGE is back. The drink that debuted in 1996 and was taken off the market in the early 2000s is back thanks to brand that successfully lobbied The Coca-Cola Company to bring back the drink. SURGE is Coke's first discontinued brand to make a triumphant return to the market.
The brand, which will be offered in its original formula in 12-packs of 16-oz. cans featuring its original retro design, is part of an innovative distribution deal between Coca-Cola and Amazon. A limited supply of SURGE will be sold exclusively through the online retailer at www.amazon.com/surge, marking the first time Coke has distributed a product solely through e-commerce.
"If expectations are met, this may be only the first of a variety of efforts we explore to launch niche products through e-commerce relationships," said Wendy Clark, president of sparkling and strategic marketing, Coca-Cola North America. "This will be a great learning experience for us and a refreshing opportunity for fans."
Teaming up with Amazon enables Coke to launch a brand online and closely monitor sales and inventory without taxing its distribution network.
SURGE's return also will be Coke's first launch to rely solely on social and digital media. The brand will refrain from all traditional forms of advertising, including TV and out of home, allowing excitement to build online (follow the brand's journey on Twitter: @SURGE).