PoloGear Scores with Licensing Agency AALMG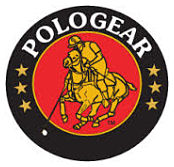 Coming out of this year's International Licensing Expo, All-American Licensing and Management Group (AALMG), a licensing powerhouse formed by a group of top industry executives and represents select organizations, ranging from establishments like the Mandalay Bay, MGM Grand and the Bellagio Hotel and Resort, to personalities like designer Jennifer Adams and TV's longest running hunting and fishing show, The American Outdoorsman, announced the signing of PoloGear to that exclusive roster. This partnership will take the PoloGear brand to the mainstream level in North America.
For PoloGear, who attended the expo for the first time, it was a vital stepping stone towards their growth in big-time branding both inside and beyond the equestrian world. Through their experience, they were able to successfully partner with AALMG, who recognized the potential and importance of their authentic PoloGear brand.
PoloGear has a unique niche in the equestrian world, as it is the only true polo brand. Their authenticity lies in the fact that their products come straight off the polo field. PoloGear produces merchandise such as polo boots, jerseys, helmets and saddles, as well as street wear for the players and fans – bringing the "way of life" full circle. This authentic brand has a market, not only with players, but also with polo enthusiasts and lovers of the style. With 8-goal professional polo player Nic Roldan as the spokesman for the brand and now with AALMG behind them, PoloGear's CEO and Founder Gary Fellers has sky-high expectations for growth.
"Our dream was to create a brand that is synonymous with real polo," Fellers said. "With AALMG we have found a partner that understands the uniqueness of the real polo vision and sees the incredible opportunity that it presents in the marketplace."
"Polo Gear has been the 'go to' resource for polo players and fans for decades. We are excited to be working with the PoloGear team to expand on their highly successful line of authentic products, building a lifestyle brand that will bring 'The Sport of Kings' to consumers," noted Al Ovadia, Partner, All American Licensing & Management Group (AALMG). Through working with AALMG, PoloGear will be able to utilize their synergy to create diverse product lines—incorporating their real polo "way of life" in mainstream market products. This means wide spread exposure outside the polo industry, in return, allowing for growth and improvements within the industry.