Customer Service: The Forgotten Business Phenomenon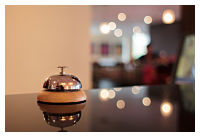 A 2012 survey by QSR magazine asked participants to rate their customer experience at various fast food restaurant drive-thrus. Chick-Fil-A was the only restaurant that received a "very friendly" rating more than half the time (57.4 percent). Meanwhile, McDonald's clerks were "very friendly" only 27.6 percent of the time, and Burger King fell closely behind at 27.4 percent.
McDonald's executives acknowledged the issue with all of its franchise owners in a 2013 conference call, revealing that one out of every five complaints the corporate office receives is related to rude and unprofessional employees. The company failed to hit revenue expectations for two consecutive quarters in 2012, which prompted CEO Don Thompson to shake things up at the executive level that November. But the damage had already been done. Despite all the changes, the Wall Street Journal reported in June 2014 that McDonald's sales dropped six consecutive months, the longest negative slide for the company since 2003.