PriceGrabber: Service Drives Loyalty This Holiday Season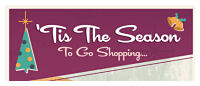 Oct. 30, 2013 — PriceGrabber, a leading distributed ecommerce platform and shopping site, just released additional results of its Winter Holiday Shopping Survey, revealing that 69 percent of consumers plan to shop at the same retailers as they did last year. When asked why, 70 percent said they would remain loyal to certain retailers because of good customer service.
According to the survey, online retailers and discount stores continue to remain the most popular destinations for holiday shopping. When asked to select all the types of stores where consumers plan to shop for gifts, 75 percent chose online retailers and 68 percent said they would visit discount stores.

Conducted on PriceGrabber.com from September 13 to 25, 2013, this survey includes responses from 2,887 U.S. online shopping consumers.
Convenience is Key this Holiday Season
It can be the busiest time of the year, and shoppers are looking for convenience when choosing where to shop for gifts. Free shipping was the second reason consumers said they plan to return to their go-to retailers this year, at 62 percent. Fifty-five percent said they like the convenience of shopping online with an easy checkout process, and 40 percent will return to stores located in close proximity to their home.
"As shoppers are looking for convenience and excellent customer service, retailers are aiming to drive shoppers' wallet share with strong incentives like free shipping, coupons and aggressive price cuts," said James Brown, vice president of sales of PriceGrabber. "According to the survey, most consumers plan to research their holiday gift purchases in advance," added Brown. "Retailers will need to communicate their deals to the online consumer before they start their shopping or they risk losing customers."
'Tis the Season for Apparel
Despite what may be on everyone's holiday wish list, consumers can bet on receiving clothing again this year. When PriceGrabber respondents were asked to select the items they are most likely to purchase for a gift this season, clothing topped the list at 64 percent. Gift cards ranked second at 47 percent, while 37 percent opted for books, DVDs, or games. Good news for good boys and girls; of those surveyed, 35 percent of shoppers said they will be purchasing toys this holiday season. From 2012 to 2013, shoppers are aiming to maintain a similar budget as last year, with 54 percent of consumers indicating they plan to spend $500 or more this season. Shoppers plan to do their homework this year, with 88 percent saying they will research their holiday gift purchases in advance to find the best deals.
When Shoppers Think There will be the Best Deals
The official start of the holiday shopping season traditionally kicks off the day after Thanksgiving, otherwise known as Black Friday (November 29). According to the survey, 33 percent of survey respondents believe the best deals will be available after the Thanksgiving holiday. Twenty-eight percent believe the best deals will be specifically on Black Friday. Additionally, of those surveyed, 24 percent think the month of December will offer the best deals and 15 percent of shoppers felt that Cyber Monday (December 2) would yield the best bargains.