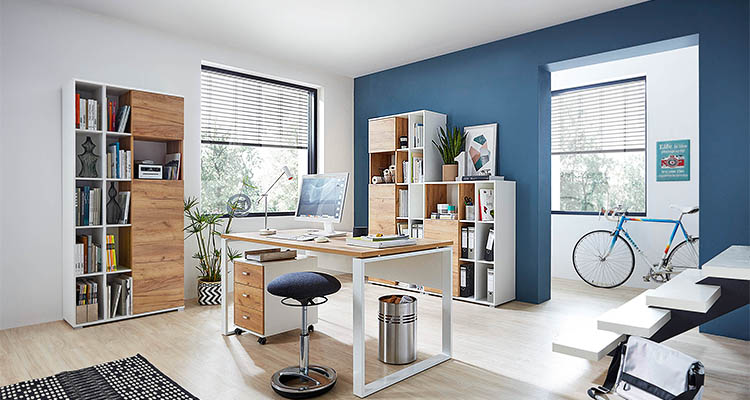 Provider of quality office solutions, Viking delivers ergonomic supplies across Europe
The way we work has changed significantly throughout the years, with many working from home. Aware of this shift, leading expert in workplace solutions, Viking Office UK Ltd, has been a key innovator in office supplies and stationery. The company aims to provide its customers with improved work environments, whether working from home or the office. Before establishing its presence in the new landscape of hybrid working, Viking assisted companies in their adjustment from paper to computer in the 1990s, operating under the name Viking Direct in Europe. Simon Allan-Brooks, Managing Director UK and Ireland, explains the vast history of the company and how its work has evolved through the years.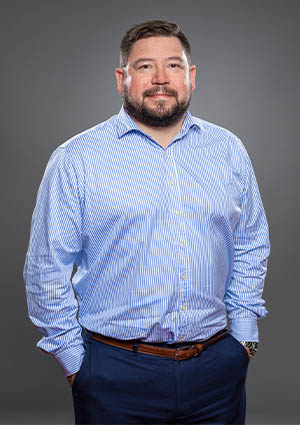 "Viking UK is part of a larger European group of companies which operates across eight countries: Ireland, Germany, Austria, Switzerland, the Netherlands, Belgium, Luxembourg, and the UK. The UK division is the oldest of the group and was established in 1990, by the American brand, Viking Direct, as part of its European growth strategy. Since its inception, Viking has significantly grown through mergers and acquisitions. We merged with the French stationery organisation, Gilbert, as well as with another US company named Office Depot. Subsequently, we adopted Office Depot as our main brand, changing the name from Viking to Office Depot. We were then owned by a European private equity (PE) house that retained the Office Depot brand for Europe. However, the PE house sold off the Office Depot brand to a UK competitor, leading to a change of ownership that saw us return to the Viking brand across Europe. In October 2021, we were purchased as a brand by a French organisation called RAJA Group, which is the leading packaging business in Europe. So, we are now known as Viking, part of the larger RAJA Europe Group, and are the largest in the UK for online distribution of office supply products. In the UK and Ireland combined, we currently turn over circa £200 million, with 85 percent of that revenue being generated from our online website: viking-direct.co.uk
"2023 has been a year of great change for us with the launch of four important initiatives. The first one is that we are looking to reintroduce corporate accounts to our portfolio to expand our customer base in the stationery market. We sold that part of the business in 2020 but re-entered that market this year with an enhanced team led by Peter D'Amery, Sales Director. Secondly, our largest project for this year is improving our customer service. Before this year, only 20 percent of our customer service team was based in the UK, with the other 80 percent working from South Africa. As of March 2023, we are fully based in the UK with teams in Oldham and our head office in Leicester headed up by senior leader Julia Martin. Thus, we are not only able to respond to all queries from our customers in the UK and Ireland, but we are also able to have real conversations with them. This was a very successful project as we are already seeing better customer loyalty and receiving valuable feedback on our products, recreating fanatical customer service that Viking has been famous for in the 90s. We have actually recently completed our third project which involved building a floor in our head office that is dedicated to showcasing our wide range of products. This has allowed our customers to see and feel our products in person to evaluate whether they are ergonomic enough and suit their needs before purchasing them. Lastly, following up on our previous owner's decision to close our Irish distribution center in 2020, we have now decided to re-enter the Irish market, a project led by Logistics Director Andy Renshaw. Back then we were able to ship our products from our Leicester distribution center into Ireland, but Brexit has since made this much more difficult. RAJA has empowered us to work with a third-party provider to put our products in their warehouse. Viking will be able to sell its products in Ireland from that warehouse using its final mile distribution partner by the end of this year," he elaborates.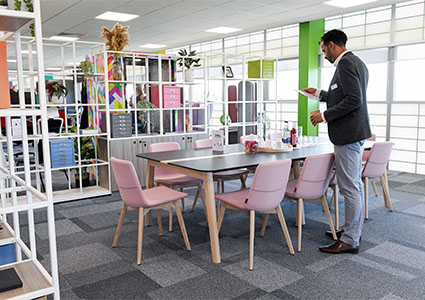 Being acquired by RAJA represents a significant milestone in the company's history. RAJA plays an important role in the office supplies and furniture market, strengthening Viking's position. Simon details the challenges Viking has faced in terms of supply chain ever since the acquisition: "All the managing directors of the RAJA Group come together three times a year to learn from one another. They discuss growth not only in terms of sales but also strengthening our relationship with our vendors. The supply chain is the epicenter of our operations and obviously, we have had to navigate many challenges caused by shortages in material and labor in the past few years. This year, the main challenge has been caused by the war in Ukraine since a lot of our vendors relied on energy provided via Russia. Following the events in Ukraine, we made the decision not to trade with Russia, which resulted in a shortage of paper based supplies. Previous to the war, there is also the backlog caused by the pandemic which we needed to address. The consistent backlog of the supply chain drove up the cost of shipping and supply chain in general. Moreover, we had to face a 250 percent rise in energy costs, which was already a big expense in itself, but it has been especially challenging this year. And, of course, there is also the shortage in labor in the UK. Skilled people don't want to work in warehouses anymore, and if they do, they'd rather be fixing the robots in the warehouse, not doing what the robot does," he states.
Despite advances in technology, Viking relies on human workers as part of its commitment to premium customer service. "There is still a need for people to physically move and deliver products. Brexit has changed the way that we source skilled drivers with a high number of our Eastern European colleagues returning to that part of Europe, which led to a severe lack of drivers. Furthermore, the pressure on next day delivery in the B2C world has seen heightened productivity expectations on drivers. Today, it is common for drivers to do 150-to-200 deliveries per day, which is physically demanding when you consider that they must repeat the process of opening and closing their vehicle's doors, knock on the customer's door and walk back to the vehicle over 300 times a day. As a result, many have lost the art of talking to customers, because they simply don't have time to form a great customer relationship," he ends.
Simon argues that losing that customer relationship at the doorstep and reception desk is one of Viking's biggest challenges to date, as it strives to reinstate dialog between couriers and customers while making supply chain operations more attractive to young generations. As it looks to the future, Simon is positive that the four core initiatives will support Viking as it aims to become the number one office solutions provider across the UK, Ireland, and the rest of Europe.