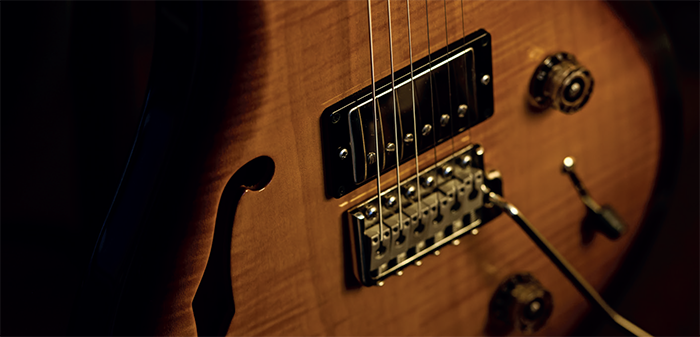 PRS Guitars has been publicly endorsed by a wealth of talent – from Carlos Santana to Beyoncé
Established in 1985 by Paul Reed Smith, PRS Guitars is a name that carries with it a certain weight. A weight made of wood, tradition, nickel-plated steel strings, rhythm, electronic components, and a small slice of the history-cake that we call rock and roll. Based in Maryland, the company manufactures world-renowned guitars, amplifiers, and other music industry-related items, including aftermarket components and upgrades.
PRS Guitars is devoted to an ongoing mission: (re)discovering the rich heritage of the guitar while committing itself to innovation and the development of cutting-edge musical technologies that allow musicians – adroit and amateur alike – to continuously refine their craft.
The company began with the hands-on talent and charisma of the man that gave the brand its name: Paul Reed Smith. Exploiting these characteristics, Paul would often hang out at local concert arenas for hours before a show, introducing himself to the roadies and bandmembers with a handmade guitar in hand that he was hoping to peddle. It turned out talent and charisma attract attention – from Carlos Santana, no less.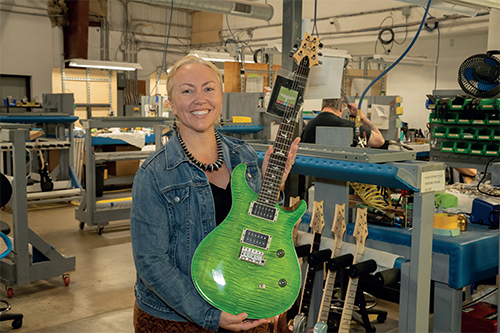 Who would have thought it? One-off sales turned into a backlog of orders, and Paul quickly got to work on two prototype models for scaled production.
In 1985, PRS Guitars opened its first factory. Just over ten years later, the company moved to Stevensville on the Eastern Shore of Maryland – what was a relatively modest operation carried out by four employees started to snowball.
Today, PRS Guitars employs around 450 people and has launched numerous stock lines, including a custom private line for one-of-a-kind feats of musical ingenuity (or simply a personalized engraving), and its Product Tech Center (PTC) program, which offers a repair and upgrade service with a full warranty for customers. The Stevensville facility, which has been expanded and improved over the years, now boasts more than 90,000 square feet of manufacturing space.
One of those 450 employees is Meghan Efland, Director of Supply Chain, who sat down with us to talk about the ways in which the industry leader is taking on new challenges and streamlining its end-to-end processes.
"Every component in our guitars is designed internally by our own engineering team," she begins. "Even the screws that hold parts in place. All our materials are selectively sourced with companies that can make them to the tolerances we are looking for. People often ask about Paul. He cares deeply about the product and is here every day; he wants every customer to get the best – whether that is a guitar, amplifier, bridge, tuner, or pickup. He is always trying to find ways to improve these components and make them more functional, stay in-tune longer, and sound the best they can."
To reach the incredibly high standards that PRS Guitars has set itself – the very standards that have carved out a global reputation for the Maryland-based company – a robust supply chain must be maintained even amid economic and industrial disturbances.
"Our processes are comprehensive," asserts Meghan. "We have purchasing and sourcing; however, significantly, wood is not part of our supply chain. That team directly reports to Paul. Our people are travelling all over the world, inspecting the wood before it gets put on a container and transported to us. They are picking from the top lot of wood vendors and pulling out only the productmost premium of offerings; they are involved from the point where trees are being felled and taken to sawmills to the point where we unload the wood in our building.
"We have master scheduling for the US factory as well as purchasing and scheduling for our OEM facilities," she goes on. "Then, of course, there is compliance (state, federal, and international), inventory control, warehousing, plus packing, shipping, and receiving – all directly with customers or via our global dealer network. To better fulfill these processes, we have our own European distributor and an office in England as well one in Japan for that market. Currently, we are trying to figure out ways we can use our volume in the US and get these other centers consolidated under our accounts, thereby creating a more holistic shipping process."
Another way that PRS Guitars is enacting its multiform philosophy of continuous improvement, whether that concerns an individual guitar or the supply chain that expedites its manufacturing and shipping, is by streamlining its enterprise resource planning (ERP) systems.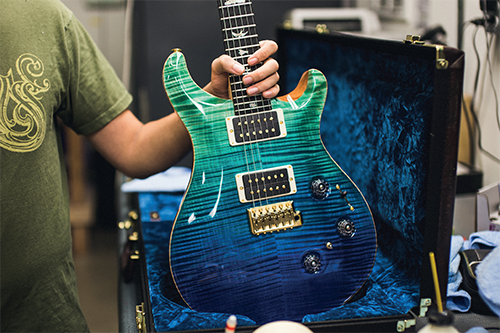 "We were using an older DOS system and had maxed out its capacity," Meghan reveals. "Anyone who has transitioned to a new ERP system will know how much goes into it! Six years after that change, we are trying to assess its capability and get the most out of it. Naturally, part of that is utilizing its out-of-the-box capability and understanding its core functionalities; however, we are also working with consultants on how different modules, including reporting and connections, can be better applied to our business.
"Moreover, our warehouse consultants have been investigating ways of incorporating better equipment in our facilities and how changes to our layout might improve manufacturing efficiency," she adds. "More recently, we have been working with our shipping partners and our ERP system to create a custom shipping method that consolidates orders and appropriately targets our wide-ranging customer base. So, in short, a lot of fine tuning!"
Though Meghan admits there have been numerous roadblocks along this path of improvement, particularly around robotics, an area that is still lagging due to the relatively small scale of the industry that PRS Guitars operates in, she is confident about the future of the company.
"We are moving forward with a smart and sustainable growth plan," she concludes. "We create a timeless, handcrafted product, so we are flowing at a relatively slow pace – but always in the right direction. Part of that steady flow will mean becoming more involved with our European and Japanese offices and deep level logistics to improve cross-company efficiencies. Going forward, we are looking forward to getting back out into the world and meeting companies that are using the latest and greatest tooling, thereby enabling us to keep making some of the finest guitars in the world."
www.prsguitars.com