Purchasing Valentine's Gifts for "Multiple Loves"?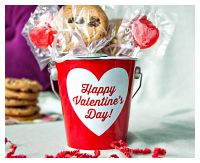 Feb. 11, 2014 – According to a recent survey, Valentine's Day now extends way beyond that one special person. In fact, 44% of people surveyed by Rich Products, a leading provider to foodservice, in-store bakery and retail marketplaces, revealed that most people do in fact have multiple "loves" in their lives.
According to the survey results, when asked to identify their "other loves," friends topped the list; and surprisingly, among the favorite gifts to give were fresh baked goods ranging from cookies, cupcakes and other sweet treats.
Serena Norr, mom of two and managing editor of MomTrends, offers a few simple gift ideas to celebrate everyone on your list. "The beauty of Valentine's Day is that you don't have to spend a lot of money to show that you care. Using what you have, there are so many easy and creative ways to show your appreciation," says Norr.
Here are three simple, low-cost gift ideas: create a food basket with your favorite sweets; personalize packaging, like a simple brown lunch bag that can be personalized, decorated and filled with baked goods and small presents; and share love notes and place them in a mason jar or decorative glassware along with a sweet treat.