Sears Introduces In-Vehicle Pickup, Powered by Shop Your Way Mobile App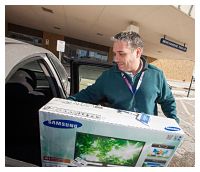 Feb. 10, 2014 – Sears has combined mobile shopping with local store convenience to introduce In-Vehicle Pickup. The new service, powered by the Shop Your Way mobile app, enables customers to pick up their online purchases at any Sears store within five minutes of arrival, without ever leaving the car.
"The In-Vehicle Pickup option takes our 'Free Store Pickup – Ready in 5' guarantee even further and out to the parking lot," said Leena Munjal, senior vice president, Member Experience and Integrated Retail, Sears Holdings. "In-Vehicle Pickup on this scale is an industry first and another example of how we are constantly innovating and adding benefits that make shopping a more convenient experience for our members."
To take advantage of the new convenience, Shop Your Way members shop online, completing their purchase via computer or tablet. At check-out, they choose In-Vehicle Pickup and input details of the vehicle they'll arrive in, then sign in to their Shop Your Way mobile app and enable location services before leaving for the store. Upon arrival at their local Sears, members simply:
Pull up to the In-Vehicle Pickup spots located conveniently outside of the merchandise pickup location.
Use the Shop'In feature in the Shop Your Way mobile app to initiate In-Vehicle Pickup – a timer will start on the phone.
In five minutes or less an associate will bring the purchase to the car and verify the purchase using the payment method used online.
"When the transaction is complete, members can easily provide instant feedback on their experience through the Shop Your Way app," Munjal said. "This feedback is extremely valuable as it helps us further enhance our capabilities across all channels."
Sears recently launched the Shop'In feature on the Shop Your Way mobile app to better connect in-store and online shopping. Members who Shop'In from the app while at or near a Sears or Kmart store can unlock special deals and personalized offers, take advantage of valuable e-coupons, price and product comparisons, customer reviews, and sweepstakes. They can also chat with friends and other members, send photos, post a poll to get shopping advice from the Shop Your Way community or get real-time access to knowledgeable store associates.