RadioShack Opens Third Concept Store in New York Area; Begins Rolling Out New, Scalable Store Format Around the Country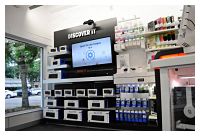 Aug. 8, 2013 – RadioShack Corporation opened two new concepts stores in the New York area for a total of three. The company also revealed details of the development of a "low touch" format coming to select neighborhoods nationwide in the coming months. As part of RadioShack's emphasis on reinvigorating stores and repositioning its brand, the company is opening a select number of high-touch stores filled with interactive features and playful experiences in high-traffic, high-profile locations.
The dramatically remodeled store at 68 Main St. in Southampton on Long Island opened Saturday, August 3, 2013. The Southampton location showcases how the concept store configuration and customer experience suit a high-end destination community. The store features the celebrated speaker wall and other interactive areas designed to help shoppers experience technology.
The company also recently renovated one of its most popular mall locations, Newport Centre Mall in Jersey City, N.J., into a concept store.
"Our latest concept stores demonstrate how readily the new 'RadioShack: Let's Play' platform comes to life in different ways, creating a completely new brand experience for consumers," said Joe Magnacca, chief executive officer of RadioShack. "We selected two distinct store types, a popular getaway community for New Yorkers in Southampton and a New Jersey mall store that shares a lot in common with our highest traffic mall locations nationwide. The transformation in these stores is remarkable."
The two additions join the first concept store at 2268 Broadway in Manhattan's Upper West Side, which opened just more than a month ago, as part of the company's strategy to quickly make a significant difference in the customer experience in one of the nation's most important shopping markets.