Redesigned Nespresso Boutique Opens In Boston's Back Bay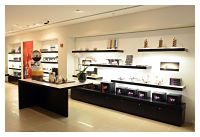 Aug. 12, 2013 – Nespresso, the worldwide pioneer and reference in premium, portioned coffee, announces the redesign of its Boston Flagship Boutique. The contemporary 2,400 square foot space is located in Boston's chic Back Bay neighborhood, regarded for its 19th century urban architecture, fashionable shopping and culturally significant landmarks like Copley Square and the Boston Public Library. Located at 7 Newbury Street, the Boston Flagship Boutique is just footsteps from Boston Common and the Public Gardens.
"We are thrilled to offer an enhanced premium coffee experience to Boston residents and visitors with our newly redesigned Boutique," said Frederic Levy, President, Nespresso USA. "The Boutique will offer visitors a chance to connect with the brand in a uniquely sensorial way, and is exemplary of Nespresso's commitment to the highest-quality coffee, products, and customer service. We look forward to sharing our deep coffee expertise and unique lifestyle offerings with the city of Boston."
The Boston Flagship Boutique will offer customers a relaxing, premium experience in the newly designed, state-of-the-art, contemporary surroundings. Customers can taste the brand's Grand Cru coffees, experience Nespresso's smart and easy to use machines and enjoy unmatched customer service from specially trained Nespresso Baristas.
Nespresso is creating a new coffee culture in the U.S. by delivering the highest-quality coffee sourced from the top 1-2% of the world's coffee crops, and offering a variety of premium portioned Grand Cru coffees that meet a complete range of consumer tastes. At the Boston Boutique, customers can sip and savor delicious hot and iced espresso beverages such as Espresso Macchiato, Moka Latte, Iced Cappuccino, and Iced Caffes, among other specialty premium drinks.
Additionally, the Boutique will now offer a light menu of savory and sweet selections designed to complement their coffee offerings. Breakfast pastries and baked baguettes, with an assortment of artisanal jams, will be served, while savory quiches and seasonal soups, will delight gourmet customers throughout the day.
Guests visiting the Boutique can familiarize themselves with the complete range of Nespresso's sleek and stylish machines, enabling coffee connoisseurs to bring the ultimate coffee experience into the comfort of their own home. The brand's selection of award-winning and technologically-advanced machines manage all the elements needed to deliver the perfect cup of coffee, cup after cup, with the touch of a button. Additionally, each machine in the Nespresso range allows for fresh milk options – whether built into the design, as with the stylish Lattissima Plus, or accompanied by the Aeroccino Plus milk frother – creating a luscious topping of foam for the perfect cappuccino or latte. And, as a Nespresso Club Member, consumers will realize unmatched customer service online, in-store and via phone 24 hours a day.
The Boston Boutique redesign is the latest indication of the brands continued domestic growth and its commitment to expanding its U.S. presence. Nespresso pioneered the global premium portioned coffee concept over 25 years ago when it introduced its range of smartly-designed and convenient single-serve espresso machines to European consumers. The Boston Boutique is one of five Nespresso Boutiques in the U.S., in addition to locations in New York City, Miami, and San Francisco.