Rebuilding Together, Lowe's revitalize homes as part of 18th Annual Kickoff to Rebuild Super Bowl Sanctioned Event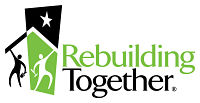 Jan. 11, 2013 – Rebuilding Together, a Safe and Healthy Housing organization that believes Community Starts at Home, is hosting its 18th annual Kickoff to Rebuild event on February 1st in the Algiers neighborhood on the West Bank of New Orleans. Rebuilding Together and Lowe's will renovate 10 homes owned by low-income families. Garrett Hartley, placekicker for the New Orleans Saints, is also planning to attend and participate.
The only Super Bowl-sanctioned charity event on the West Bank, Kickoff to Rebuild brings community volunteers, past and present NFL players, national celebrities and local leaders together to rebuild homes and revitalize communities.
"Providing volunteers and funding in New Orleans will help preserve affordable homeownership and revitalize the community, which are vital to the missions of both Lowe's and Rebuilding Together," said Marshall Croom, chairman of Lowe's Charitable and Educational Foundation. "This neighborhood revitalization is an investment in our future leaders and in the communities Lowe's calls home."