Retailers Must Be More Proactive Against Cyber Threats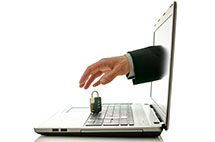 May 29, 2014 – The retail sector has been targeted and damaged by high-profile cyber security incursions, resulting in a loss of customer confidence and a move by retailers to upgrade security measures in the constant battle against criminal hackers. Security threats exist at multiple points in the retail chain, from point-of-sale systems and online purchasing to employee access to sensitive information. It's part of a dizzying trend including research by the Ponemon Institute showing that hackers have exposed personal information of nearly half of all Americans in the past year.
One important tool retailers must implement is penetration testing, conducting ongoing self-evaluation of systems, processes and policies in an effort to stay ahead of the curve. However, penetration testing is not enough to identify new threats ahead of time, as proactive threat intelligence is needed to fill the gaps in penetration testing and implement a truly dynamic and aggressive cyber security protocol. It's often the case that companies do not notice retail hacks until weeks or months after the intrusion, creating far more damage.