Rosenberry Rooms pushes Eco-Friendly Children's Furniture with focus on GreenGuard Certification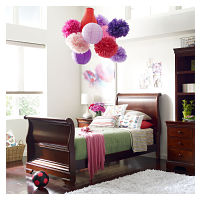 Jan. 10, 2013 – Rosenberry Rooms, a leading online retailer and boutique offering specialty children's furnishings, decor and gifts, has always been committed to making it easy for parents to find earth-friendly furnishings and gifts for children. In an increasing effort to offer top of the line, safe and stylish furniture for children's spaces, Rosenberry Rooms has partnered with Young America (a Stanley Furniture Company) to offer their premier line of GreenGuard certified children's furniture. This prestigious collection of American-made products, aptly named Young America, is handcrafted in North Carolina with a focus on quality, design and most importantly, safety. Each bed and crib is individually tested against the most rigorous chemical emission standards in the world to ensure they receive the coveted GreenGuard certification, making Young America a leader in product safety.
"We are thrilled to offer the Young America furniture collection to our customers, which is as beautiful as it is healthy," says Rosenberry Rooms owner and mother of five, Susie Fougerousse. "When parents choose Young America furniture, they have complete peace of mind knowing not only that they are investing in gorgeous, high-quality furniture, but that they are providing the most safe and wholesome environment for their children."
Rosenberry Rooms offers each of Young America's best selling collections and plans to add new releases in the coming months. From cribs and changing tables to bunk beds, dressers and desks, this robust youth furniture line offers everything parents need when decorating a child's room, while boasting superior safety and durability. With 25 safety-certified paint and wood stains to choose from, the design possibilities are endless. Rosenberry Rooms also offers free premier shipping and white glove home delivery at no charge for all Young America products.