Scholastic To Publish New Multi-Platform Fantasy Adventure Series, Spirit Animals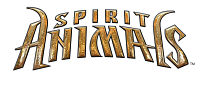 Jan. 10, 2013 – Scholastic, the global children's publishing, education and media company, and the pioneering publisher of the multi-platform New York Times bestselling The 39 Clues and Infinity Ring series, continues to innovate with the publication of Spirit Animals, a new fantasy adventure series for readers ages 8-12. The multi-author series launches worldwide on September 10, 2013, and will be led by #1 New York Times bestselling author Brandon Mull who will pen the first book, Wild Born, and create the story arc. The second book in the series will be written by #1 New York Times bestselling author Maggie Stiefvater and will be published in January 2014. Additional authors and publication dates will be announced at a later date. Combining epic storytelling through seven books linked with a dynamic online game, Spirit Animals is Scholastic's first foray in the fantasy genre in its groundbreaking multi-platform publishing program.
Spirit Animals centers around the fantasy world of Erdas where children who come of age go through a ritual to determine if they have a "spirit animal," a rare bond between human and beast that bestows great powers to both. In this breakthrough series, four children from different cultures undergo an annual ritual and discover that they have been chosen for a greater destiny. Each book in the series will unlock expanded gameplay on the immersive Spirit Animals online game site. The role-playing online game—available through any web browser—will allow kids to customize their own unique heroes, choose their spirit animals, and go on quests to help save the world of Erdas.
"With Scholastic's latest entry into multi-platform, readers are transported into a whole new fantasy realm with Spirit Animals," said Ellie Berger, President, Scholastic Trade. "Spirit Animals has a compelling premise, a relatable cast of multi-cultural characters, magnificent animals, and a vibrant online game—this is 21st century storytelling at its best. We cannot be more excited about introducing this epic series to kids everywhere."