By Janice Hoppe-Spiers
Naeem Khalid left Pakistan in 1984 and moved to Connecticut where he would quickly discover the intriguing world of convenience stores. "I worked at a local convenience store as an area manager for a few years and this business intrigued me a lot because it's very unique," he says. "It's a multi-dimensional business. You have to be a business man, an employee, a supervisor and you have to work with different types of vendors. There's never a dull moment in this business."
Khalid's passion for the industry led him to start his own company, Sam's Food Stores, which he founded in 1992. Since then, the Rocky Hill, Conn.-based company has established nearly 200 locations in the Northeast and Canada. In addition to Sam's Food Stores convenience store, the company has expanded to include DB Mart and Smoker's Discount World, a tobacco specialty shop.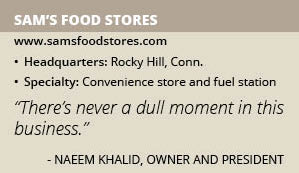 "The best thing about us is that we are unique and embedded in the neighborhoods in which we are located," Khalid says. "We are truly a neighborhood-conscious store. For example, this year we are hosting our eighth annual Sam's Children's Fundraiser on Oct. 20, which raises money for the families of children with serious diseases and disabilities. Sam's Food Stores feels a community connection through Sam's Children's Fundraiser."
Sam's Food Stores strives to create a comfortable and inviting atmosphere inside its stores. "When they come in, the customers don't feel like they are in a business," Khalid explains. "They feel like the convenience store is part of their community because the clerks and managers know the residents and all the customers, so there is this personal interaction. Our customers feel comfortable talking to the cashiers and owner-operators, and just feel like they are at home."
Sam's Food Stores range in size from 1,500 to 2,500 square feet in both heavily populated towns and smaller communities. The company's more than 1,000 associates are all hired from the neighborhoods in which the store is located.
Enticing Additions
"Since we are embedded in the neighborhood, we have our finger on the pulse of the community," Khalid says. "Nowadays, people don't cook at home, so we are seeing a big shift toward food options. We are not a traditional convenience store anymore; we are shifting and selling less tobacco and more food items."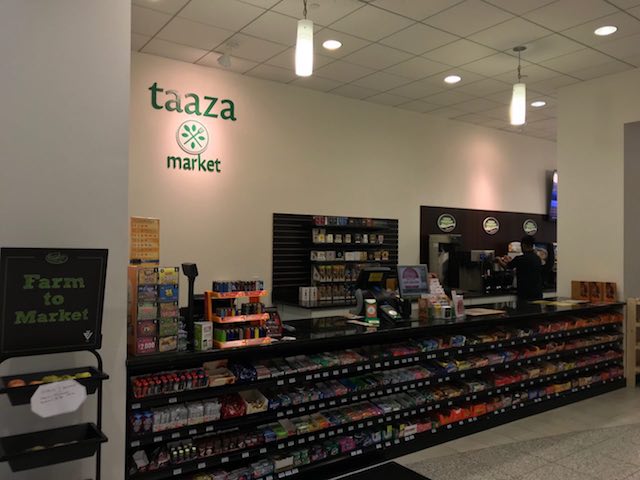 Known in its market for Sam's fried chicken, Sam's Food Stores is diversifying its product offerings to include healthier prepared foods and sandwiches. The company recently partnered with Freshii, a health-minded, counter-service chain offering tossed-to-order salads, as well as soups, burritos and more, to add to its offerings in select Sam's Food Stores. "Since we are also in the QSR business, we are diversifying our locations," Khalid adds.
In July, Sam's Food Stores opened its first convenience store with Freshii in Hartford, Conn., which has been well received by the neighborhood. "The response has been overwhelming," Khalid says. "We have lines of people at lunch because this is a great product and great brand. It's been unbelievable."
The company is also developing a mobile app so customers can order Freshii to-go at Sam's Food Stores. Eventually, the company would like to add delivery and is currently developing that program with Uber Eats. In an effort to continue diversifying its food options, Sam's Food Stores will be partnering with Baker's Dozen Donuts, a donut and coffee shop based in Brooklyn, Conn. "We are trying to figure out which direction to go in and which brands to bring in with co-branding," Khalid says. "We have Freshii already in Hartford and Baker's Dozen is coming. We will continue to find new companies that fit well with our convenience stores."
Moving forward, the company plans to redevelop at least five stores every year or on an as-needed basis to accommodate its plans to add brands to its convenience stores. Sam's Food Stores in Waterbury, Conn., was the first to be redeveloped and recently opened as the company's model store. This location features Dunkin' Donuts and the company is looking to add multiple product dispensers (MPDs) in the future. "When we rebuild the stores, they will have three to four MPDs," Khalid notes.
Sam's Food Stores is also in growth mode as it looks to add more locations in its target market area. The company recently acquired land in Lisbon, Conn., where it will be redeveloping the site to open a new location, and is open to additional opportunities as they are presented. "At Sam's Food Stores, we strive to bring our customers excellent service with a high degree of satisfaction and speed in order to keep up with today's fast-paced world," Khalid says. "We also focus on growing our company and aim to provide a variety of business opportunities to budding entrepreneurs and aspiring investors. We are always looking to build new business relationships with individuals, companies and corporations."