Sav-Mor Pharmacy Services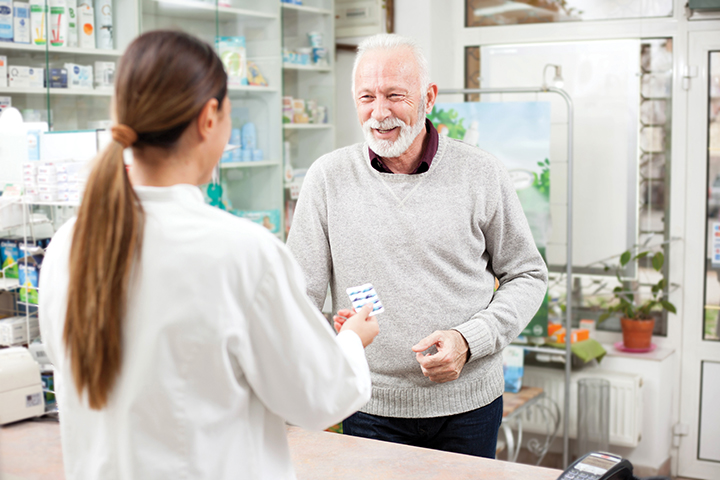 Sav-Mor Pharmacy Services offers independent pharmacists assistance on the backend,
allowing them to focus on what's most important: patient care.
By Janice Hoppe-Spiers, Knighthouse Media
The local pharmacy is anything but a thing of the past. The industry is experiencing a major shift towards community-based pharmacies as the next generation of pharmacists look to become more actively involved in patient care, and Sav-Mor Pharmacy Services stays behind the scenes helping make those dreams a reality.
"We are optimistic that while there is some consolidation in the market, we have a wave of younger pharmacists who want to do more for patients and have a passionate mindset that will really spark growth in independent pharmacies moving forward," Director of Operations Brandon Peiffer says.
Two years ago, Sav-Mor transitioned its business model from a drug store franchise company to a buying group (GPO), and pharmacy services administration organization (PSAO). The company's experienced management team has more than 60 years of combined experience monitoring and overseeing the critical financial aspects of the business, offering services that leverage the economies of scale that may otherwise be cost prohibitive or unavailable to independent operators.
Sav-Mor, based in Southfield, Mich., services about 220 independent pharmacies today throughout the country. "We do more for independent drug stores than any other buying group out there," Peiffer adds. "We make it a point to make sure that questions get answered, that the owners know us by name and face, and have our direct contact information for anything they might need."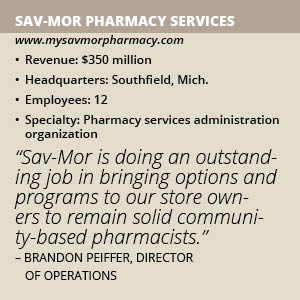 The independent pharmacy maintains its identity while Sav-Mor works for them in the background. "For example, a pharmacist from a chain recently came to us because she is in the process of buying her own retail pharmacy," President Yvonne Gallagher says. "[Vice President] Anthony Codrean and I met with her four or five times over the past few months, giving her and her husband information and data analytics. They were here for four hours going over what they can do with the front-end and point-of-sale system or what if they have a problem with something. We explained how we can help them."
In addition to working with those just getting started owning their own pharmacy, Sav-Mor is also interested in assisting seasoned pharmacists to develop a succession plan to retire. "Maybe their children aren't taking over the family business, but we can help them find a younger pharmacist who can operate it and keep it independent," Gallagher explains. "The major chains come in because it's a good pharmacy and say they'd like to buy them out, giving them their retirement fund right there, but we'd like to help keep them independent."
Customizable Services
Sav-Mor offers its clients PBM contract and cash management services, claim level reconciliation, PBM complete desk audit support and service, preferred drug wholesale contract and more. The company is flexible, allowing its clients to choose from its menu of services that best meet their needs.
Sav-Mor often looks for ways to incorporate new programs and services. "We attend many conferences and other pharmacy-related events, looking for new innovations and services to bring new ideas and technology to our clients," Peiffer says.
In November, Sav-Mor announced it added a new telehealth program to 30 pharmacies in southeastern Michigan. The company partnered with My T Health Plus, a simple and affordable way to get instant access to a doctor with year-round virtual physician visits for $14.99 a month. "Let's say, for example, your child has pink eye and you know what it is, but to go to the doctor it will cost you $75," Gallagher says. "With our service, you can take a picture of the eye and send it to the physician who can prescribe an antibiotic to any drug store."
"I'm a father of young children and I am regularly woken up by a sick child, and can tell you right away what's wrong with them," Peiffer says. "With this service, I don't have to take my kids out of the house to urgent care or pay my $75 copay. It equates to a much lower cost."
Sav-Mor offers 24/7/365 physician access with My T Health Plus that may not always result in a prescription, but can give the patient peace of mind, as well. The company also partnered with Alethia Health, which hires one of its pharmacists to go to sick or homebound patients' homes to spend a couple hours and review their medications. "With homebound patients who either can't or won't go out, they can also use My T Health Plus to talk to someone to go over medication complications or ask a question," Gallagher notes. "Sometimes that's all they need and this will prevent them from going to urgent care or the emergency room to save on healthcare expenses."
Sav-Mor is also instrumental in leading the charge for its stores to have certified pre-diabetic life coaches on staff. "We partnered with a local health management and physician group to have some of the staff become certified life coaches to hold classes that will help people who are borderline diabetic," Peiffer says. "This lends itself to the managed care portion – if you wait for people to come into the store and fill a prescription to keep you open, it's not that way anymore. Sav-Mor is doing an outstanding job in bringing options and programs to our store owners to remain solid community-based pharmacists."
"We work with really passionate people who want to make a difference in the community and offer these really cool programs, hoping everyone jumps on board," Peiffer says. "We look for people who will take these programs and run with them. When one of our owners takes these programs and runs with it, that's a satisfying feeling."
Expanding its Reach
Sav-Mor maintains its customer relationships by staying in constant contact. "We have a staff of 12 and we are always communicating with someone at the pharmacy whether that's done through email, phone or support tickets," Codrean says. "We create a monthly newsletter and provide weekly tips, as well. In the office, we use a database so we can track contact points for each client, enabling us to make a point to reach out to each customer once a month. If someone hasn't reached out to 'XYZ' pharmacy and it's the 18th, we need to reach out to them and see how things are going. That's just one of the things our customers thrive on and love is that we are always in contact with them and solve problems for them."
In terms of reaching new clients, Sav-Mor has developed a new marketing program that it will begin implementing this year. "It's a growth plan we are working on with a public relations and marketing team to promote ourselves to pharmacy owners throughout the country," Codrean says. "A lot of our current growth has been through word of mouth and we are in 25 states right now."
Sav-Mor launched a new website, www.mysavmorpharmacy.com, in December that will showcase its full menu of services to new and existing clients. "In 2018, we developed the marketing tools and in 2019 we will actually use them and be in full marketing mode," Gallagher notes. "We expect to pick up a lot of growth in 2019."
As the company expects continued growth, it may increase its staff with people who are passionate about the industry and willing to go above and beyond their job description. "No one is above doing the research to find an answer for a customer," Codrean says. "At the end of the day, the customer is always right and they are relying on us for solutions and answers. Yvonne is at the top of the food chain, but she has been known to come in on a Saturday for four hours to meet with customers who need assistance. You have to really be determined and go the extra mile for our customers."
"Our goal is to make sure there is a thriving network of independent pharmacies out there," Peiffer says. "They are the cornerstone of a community and patient's health, and we can help those people who run independent pharmacies maximize their ability to deliver exceptional patient care. If we can do that, we are really successful as a PSAO and GPO buying group."