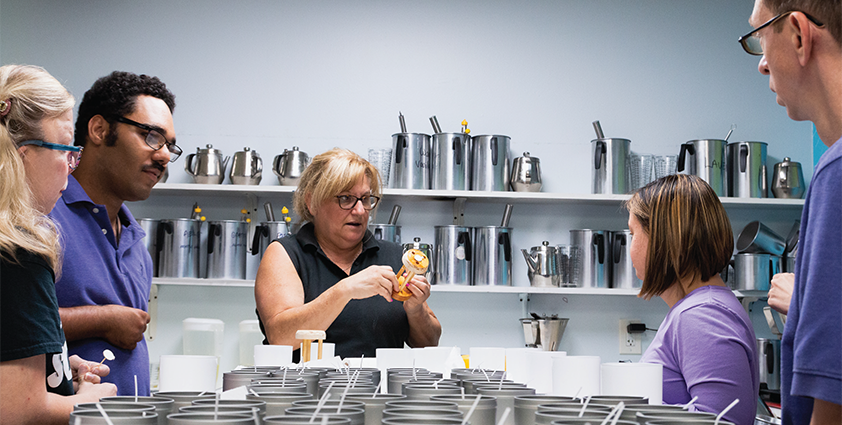 A light in the dark
ScentsAbility Candles is more than just a candle-making business; this organization is on a mission to provide a purpose-filled life for those living with intellectual and developmental disorders
ScentsAbility Candles (ScentsAbility) began its journey with one goal in mind: to create an environment where people living with an intellectual and developmental disability (I/ DD) can lead a purposeful life. Like any mother would, the Co-Founders, Bonnie Schmidt and Denise Anderson, who both have daughters living with an (I/DD), wanted to provide the best possibilities for their children. We speak with Bonnie about the flame that sparked ScentsAbility, and how the company is changing the livelihoods of the young adults who keep its candle burning.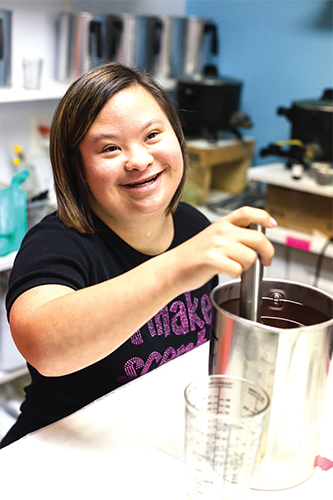 In the United States, children living with an intellectual disability are allowed until the age of 22 to complete their schooling careers. Thereafter, options for a safe, purposeful day are extremely limited. For Bonnie and Denise, this was a daunting and stressful thought for two mothers who had ruled out the option of sending their children to care homes (an adult day care that would not provide a purposeful day). "Although both of them have medical conditions that need to be monitored throughout the day, they also have this incredible energy and desire to contribute to their community, and do something with their lives that we couldn't just ignore," she says.
This is how candle-making came into the mix. The multi-sensory experience of creating a candle is excellent for keeping those with (I/DD) engaged in a fun and exciting craft, but Bonnie and Denise wanted to take this one step further. "We didn't want just a craft, we wanted a product that would be marketable and high-quality.
"We originally started with very basic fragrances, but this developed into something that reflected our mission, and provided a product that customers could only get from ScentsAbility. We realized that because each of the young adults and artisans that make our candles are so unique, it would be fitting to have our candles represent that individuality. This led us to incorporating more complex aromas, which is essentially where the non-profit meets the business aspect of what we do," she explains.
The core values that support ScentsAbility's mission are Positivity, Gratitude, Potential, Ability and Purpose and the company's product range of fragrances are thus named accordingly. "Now, the fragrances reflect a specific Artisan on our team based on that value. For example, I have been told since my daughter, Jessica was a baby that she would never walk or talk, and we were advised to put her in an institution, but of course that was never going to happen. Although she has spent her whole life going to physical, Occupational and Speech therapy, she has been determined and driven to succeed in whatever she sets her mind to. Now, she has this flourishing personality and a wonderful gift of making others feel loved. So, her candle is the Ability Candle, with a fragrance that was made and donated by Cosmo International Fragrances.
"On the label, you'll see a small image of her. The scent of this candle is quite feminine and floral, with hints of wild flowers to add that extra sweetness. The actual name of the fragrance is Mystic Garden, which perfectly reflects her," shares Bonnie. Another example is Purpose, Lexy's candle. This complex blend of Italian bergamot, citrus, lily and rose also contains notes of amber, cedar, smoky spices, musk and chocolate. "It's a unisex blend that truly reflects Lexy's sassiness and personality," she says. Bonnie also adds that the business is in the process of creating two new candles, and has recently released a Lavendin candle, with a beautiful fragrance created by Symrise, Inc., as part of the company's seasonal fragrance.
While candle-making is the crux of the company, there is another element to its mission. Born from ScentsAbility was the IDDeal Foundation, which promotes whole-person solutions, and equips adults living with (I/DD) with the opportunities they need to thrive In Work Live Play. Bonnie highlights that 100 percent of a ScentsAbility product purchase is invested into the foundation to enrich the lives of the young people. For example, one candle, at 30 dollars, could provide a young person with a group workout session to help keep them active and healthy.
Within the Foundation, Bonnie and Denise have pulled together their best efforts to create a space where every member feels important, and part of the team. "To really make a difference in the lives of these young people, we need to find ways to make everybody's disability their strength. With Jessica, who has such a beautiful personality, we've made her the greeter, and the one who greets customers, and makes people feel warm and welcome when they visit us. In Lexy's, who has Down Syndrome, case she loves to work, so Lexy will put the wicks together for thousands of candles in just a couple of hours because she has this fantastic focus," Bonnie highlights.
As far as the candle-making aspect of the business goes, the company's journey has not been easy, but Bonnie takes a moment to thank the National Candle Association, which has supported their mission "They awarded us a free lifetime membership. We have made connections with many of the vendors who have generously donated many of our raw materials. IGI donates our wax blend, Wick-it donates all of our wicks, and we receive our core fragrances from Cosmo International Fragrances, Arylessence and Aroma Knowledge.
"In terms of business challenges, we do the majority of the work ourselves to reduce expenses and our challenge is to increase donations and grant income so we can hire staff. We hope that by continuing with the momentum we currently have that one day, we will be in a comfortable position to bring on full-time employees. Once we reach that level, then I believe there will be more than enough being donated to into IDDEAL, and we can look at expanding this project to reach even more people."
In drawing our conversation to a close, Bonnie concludes with a poignant message that not only applies to the ethos within the company, but serves as a lesson for all of us. "Everyone has dreams and desires; we all want to thrive, and feel part of a community, we want to be fit and eat well, and look after ourselves. That isn't any less true for those with an (I/DD); they just need a bit of extra support. It's important to respect each other, and see each other as individuals with hopes to do well. We should help each other with that journey, and I think if we can do that, we can all accomplish a great deal more than we realize."