When developing new, innovative products and exploring key licensing partnerships, ScottsMiracle-Gro keeps its core consumer in mind. The Scotts® brand focuses on lawn and backyard care and skews slightly more male while the Miracle-Gro® brand focuses on garden care, skewing more female.
In addition to the Scotts® and Miracle-Gro® brands, ScottsMiracle-Gro boasts several other leading brands within the company's portfolio, including RoundUp®, TOMCAT® and Ortho®. "Determining how those brands best fit within the broader licensed assortment is a priority for our team this year," Neilson continues.
Initially, ScottsMiracle-Gro had a handful of legacy licensees in place, but the company really ramped up its licensing efforts in 2012. At that time, ScottsMiracle-Gro enlisted the assistance of The Seltzer Licensing Group, a global brand extension and licensing consultancy based in New York City, to help focus on expanding the portfolio through strategic licensing partnerships. ScottsMiracle-Gro recognized a need to reach consumers outside of its traditional product categories, and, perhaps more importantly, a desire among consumers to engage with the brand across more lawn and garden products.
"Seltzer was brought in to analyze what the potential could be for a licensing program," says Ricky Yoselevitz, vice president of brand strategy and business development for the Seltzer Licensing Group. "We believed, like the ScottsMiracle-Gro team, that consumers had an interest in the brand in other categories, so Seltzer began conducting due diligence and analysis with the goal of answering two key questions: What categories do consumers allow the brands to extend into? And what is the potential success – royalty revenue or otherwise – ScottsMiracle-Gro might expect to achieve by extending its brands? Seltzer's extensive research yielded a list of 12 to 15 key categories that made sense to pursue. We then set out to secure the best companies in those categories."
"Because consumers trust our brands, we saw an opportunity to assist them by making the entire lawn and garden experience much more intuitive," Neilson explains. "We know we have a huge following of brand loyalists, and our goal in licensing is to enable them to follow our brands into new categories. ScottsMiracle-Gro views its licensing program as a way of providing the complete experience to consumers."
Neilson adds that the company is "being selective when evaluating licensing partners. We want to ensure we are working with companies who care about the end result as much as we do. Any licensees with whom ScottsMiracle-Gro partners have to be best in class and more importantly, their products have to be truly innovative and bring something new and beneficial not just to the category, but to consumers," he says.
One of the first companies ScottsMiracle-Gro partnered with was Techtronic Industries (TTI), a global leader in indoor and outdoor power tool technology with existing consumer brands like Ryobi, Milwaukee and Homelite. Working closely together and trading on one another's expertise in lawn care and power tools respectively, TTI launched the Scotts® Sync™ System. The line brings innovation to a category that had become somewhat stagnant, offering features like on-board battery fuel gauges and an on-wall charging system that lets consumers charge their tools while neatly stored.
"We at Seltzer Licensing find that the most successful licensing partnerships are typically found where there is a lack of brands that have established trust and confidence in a particular category," Yoselevitz adds. "If a company enters the market place as a brand that is trusted and relevant in that particular category, they can quickly help drive category growth. This strategy has been a win for the consumer, for ScottsMiracle-Gro and for the retailers."
Neilson points out that the hose category is another standout example of this narrative. When a consumer comes to a home improvement store, seeing a full aisle of garden hoses with so many different brands and claims can be overwhelming. ScottsMiracle-Gro has partnered with Swan Hose, a leader in hose and watering accessories, to create a line of truly innovative yet simplified hose products. ScottsMiracle-Gro hoses are now some of the strongest selling products in the category.
And it's not just limited to the hose category. "When you marry a brand so trusted in the lawn and garden space, such as Scotts® and Miracle-Gro®, with a superior product that delivers meaningful innovation with straight-forward features and benefits, it allows a consumer to make a more educated, selective and most importantly, confident choice," Neilson says.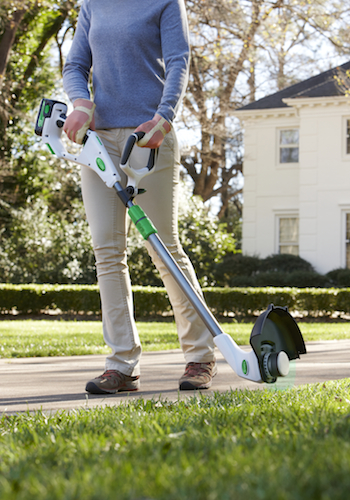 Take Notice
Developing a new licensing strategy is not without its challenges, however. With brands as strong as those in the ScottsMiracle-Gro portfolio, it can be easy to start overextending the brand and landing in categories where the brands don't add value to either the consumer or the retailer and, as a result, can even tarnish the brands. This is why, when considering any prospective licensing opportunity, both ScottsMiracle-Gro and Seltzer Licensing ask themselves the following key questions: What can ScottsMiracle-Gro offer consumers that's not currently being offered at retail? What added value can ScottsMiracle-Gro deliver to retailers?
"Products considered for licensing must be unique, innovative and truly able to drive growth for the category," Yoselevitz says.
"ScottsMiracle-Gro has no intention to brand products that don't deliver unique value to consumers and deliver category growth to retailers," adds Neilson.
Yoselevitz points out that it is also a challenge ensuring that the licensed products get in front of retailers and consumers.
"One of the ways ScottsMiracle-Gro is helping drive awareness is through unique in-store displays and signage. These tactics are an added benefit and help educate and direct shoppers when they are at shelf; it also helps reduce shelf walkaway by demystifying some of the more complex categories," Neilson notes.
He says ScottsMiracle-Gro wants to ensure consumers buy the right tool for their specific job. That way, they are pleased with the performance of that particular product and actually enjoy the task they are performing at home.
A perfect example of this can be seen through ScottsMiracle-Gro's partnership with Westchester Protective Gear in the gloves category. Through innovative way-finding signage, Scotts® and Miracle-Gro®-branded gloves are separated into categories for men, women and children, along with signage that illustrates each glove's specific function so as to eliminate confusion.
"Many people don't realize that different projects may call for different, unique gloves," Yoselevitz says. "If we can bring clarity to the category through education and help consumers find what they truly need, then we've accomplished our goal. And for the retailers, this is of great value because now you've incentivized consumers to not only trade up but potentially add to their basket by identifying they may need two different sets of gloves for different projects."
"If we can help consumers and drive category growth for retailers, we've succeeded," Neilson adds.
Lifestyle Brand
Over the course of the next year, ScottsMiracle-Gro's key licensing initiatives will expand to include more lifestyle options. The company says that consumers have a real emotional connection when it comes to their lawns and gardens. The goal is to allow gardeners to bring all of the joy and emotion of their outdoor living area inside to be enjoyed year-round.
As part of this initiative, ScottsMiracle-Gro has enlisted Langley Empire to develop Miracle-Gro®-branded candles that can bring the ambiance and scents of the garden indoors, especially in regions that have to endure cold and snowy winter months for extended periods of time.
"ScottsMiracle-Gro is coming up on its 150th anniversary, so that's 150 years' worth of goodwill and equity built around our products," Neilson says. "We strongly believe that our consumers have given us permission to help them enjoy the lawn and garden lifestyle exemplified by our brands."
Out in Front
ScottsMiracle-Gro's licensing program continues to grow year over year. Neilson says the company will continue to be proactive in its licensing endeavors and does not intend to be opportunistic or reactive.
The licensing program will be in full display at this year's National Hardware Show in Las Vegas, taking place May 4-6 at the Las Vegas Convention Center. All current licensed products and licensees will be featured prominently in a dedicated ScottsMiracle-Gro Licensing Program booth directly adjacent to ScottsMiracle-Gro's main presentation space. This event is a great opportunity for ScottsMiracle-Gro to get its products in front of an even larger audience. After all, this is one of the few chances they will get to have all of the larger retailers, as well as the key independent hardware and garden center owners to review its offerings.
"The independent retailers have been very supportive of our program so far," Neilson says. "And the National Hardware Show affords us the opportunity to speak with many local retailers and get vital feedback about what's really working and what isn't. We're receptive to constructive criticism to see what retailers are hearing from their consumers. They have tremendous insight and we can leverage that to make the program better."
Aside from the National Hardware Show, ScottsMiracle-Gro regularly meets with its licensees through licensing summits at the company's headquarters in Marysville, Ohio, to evaluate the synergy between products and how to best merchandise products, possible promotions and best practices at line reviews.
"From a company standpoint, my overarching responsibility is to drive and enhance the equity of our brands while remaining that 'trusted friend' to our consumers," Neilson says. "ScottsMiracle-Gro wants to ensure we are delivering simplicity and success for our consumers."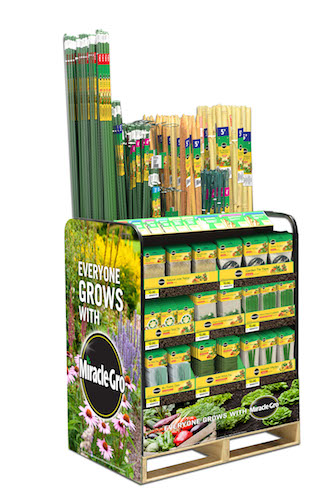 Plant Accessories
A common product bought in conjunction with Miracle-Gro® plant food products are plant support accessories like bamboo poles, support stems and ties, among others. ScottsMiracle-Gro recognized that their brand could greatly improve the consumer experience in this category and drive category growth.
"We recognized that consumers buying our core products were also purchasing plant support accessories, but that this was a category causing a lot of consumer confusion," Neilson explains. "It was historically poorly merchandised and led to frustration at point of purchase with consumers walking away without the items they really needed for their project to be successful.
"If we could help bring some level of education to highlight products, along with better merchandising, we felt this delivered something consumers were in great need of," he says. "It's worked. Many top retailers have transitioned their program to the Miracle-Gro® program. It's a true testament to the ScottsMiracle-Gro brands and its licensing strategy."
For Kids
Miracle-Gro® kits for kids was recently launched with Horizon Group, an industry leader in crafting and kids' growing kits. With these kits, kids can take an indoor greenhouse and paint and decorate the unit, along with planting seeds and watching them grow over time.
"These kits offer instant gratification through creating and decorating, while allowing long-term fun in watching something grow and develop," Neilson says. "This allows kids to have quality time with their parents as they learn and play together."
Key Licensees
ScottsMiracle-Gro awarded its Licensing Awards at its latest licensing summit at the company's headquarters in Marysville, Ohio. The awards were given to:
Swan Hose, LLC: 2015 Top Performing Licensee
Techtronic Industries (TTI): 2015 Best Packaging Design
Westchester Protective Gear: 2015 Best Hardware Show Display
Bond Manufacturing Company: 2015 Best In-Store Display