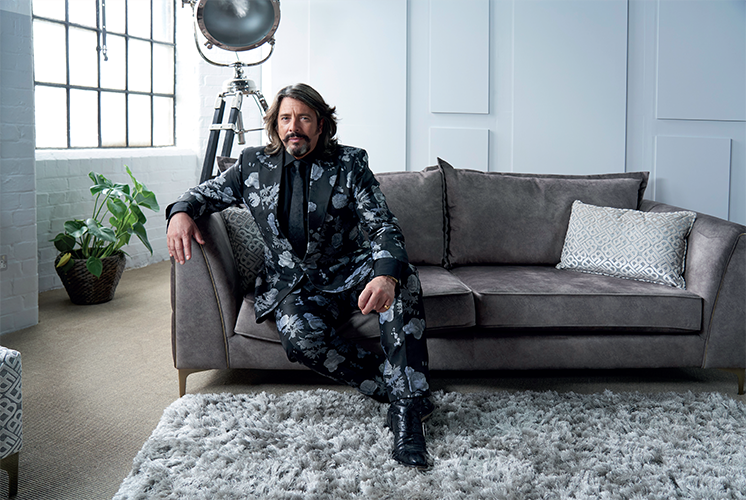 Chairing is caring
With stores spread across the UK, ScS is using innovation to grow its customer reach even further by improving its online platform, expanding its product range, and bringing creativity to the fore through a collaboration with Laurence Llewelyn-Bowen
ScS is a veteran business with over 120 years of working in the home furnishing industry. As a result of its long-standing history, the company has been able to grow into a £400 million debt-free business. Newly appointed CEO, Steve Carson, shares with us the company's craft and specialties, along with new developments that are continuing to keep ScS a favorite furniture retailer.
"On top of the fantastic support center we have based in Sunderland, where the company was originally established, we have around 100 stores up and down the UK, in addition to a number of distribution stores equally as wide spread. From there, we are able to deliver our products directly to our customers' home," he says.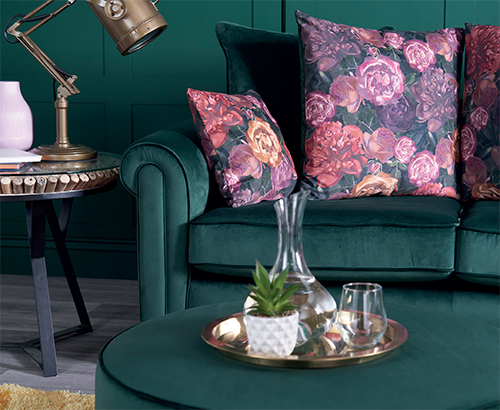 For Steve, his company's success lies in its ability to appeal to a wide range of customers, which is a special product of the hard-working team keeping the stores running, a topic that he comes to later on in our conversation. "We do sofas, dining furniture, and occasional furniture such as coffee and side tables. Aside from furnishing, we also do flooring, which ranges from underlay and carpets, to hard flooring as well.
"Our products range from about £299, right up to £5000 and more, so there really is something for everyone, and within everyone's budget. I think what puts us ahead of our competition is that we supply a number of great brands, and items that people would recognize like the La-Z-Boy – notoriously remembered from Friends as Chandler and Joey's favorite piece of furniture. Then there's G-Plan and Italian inspired SiSi, so you can see we have a number of key brands, and then an even wider breadth of items, not to mention a wonderful set of colleagues to help and support," he expresses.
More excitingly, the business is keen to continue expanding its offering even further with a collaboration with Changing Rooms star, Laurence Llewelyn-Bowen. "About 18 weeks ago, we launched the partnership at the National Television Awards, and Laurence has been fantastic to work with. We had our store manager conference in the autumn, and we brought Laurence along with his products, and he talked with such passion about them, and we are thrilled that these will be exclusive to ScS. He has connected fantastically well with the team."
The reason for this collaboration is twofold. Steve is determined to bring contemporary aesthetics to the stores catalogue, and believes Laurence is going to be crucial to leading ScS in the right direction. Secondly, he says that the creativity will continue to inspire the company's brand as a whole. "When I joined the company, one of the things I wanted to do with the products was to bring a level of modernity and a level of fashion there, while also ensuring that we kept an offering for everyone. Laurence has introduced both style and comfort, as well as great value for money with the products he has designed for us.
"He has designed three ranges and they come in one, two and three-seater options, and they will all be on the website for our customers to peruse the new brand. Within that, we have the Regency collection, the Illustrious, and the Sovereign, and each product has Laurence's LLB motif on them, and hopefully it is the start of a longer-term relationship with him," he shares with us.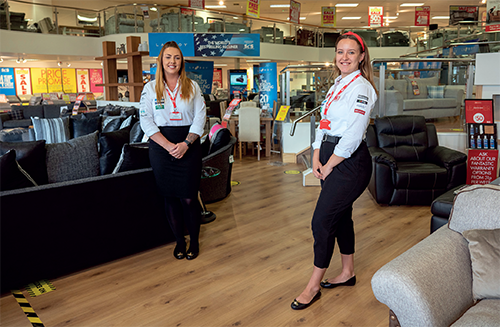 Equipped with bespoke ranges and affordability, Steve is now determined to improve ScS's online presence, and believes that being an omnichannel business will bring more potential for growth. "We see about 80 percent of customers start their journey online, which takes place through a number of approaches. They might go onto our site, and get a sense of the style, whether it suits them, if it shouts value for money, and then they might visit a store to make the final decision.
"Alternatively, their journey might be entirely online-based, and they are quite happy with what they can see. From this, we have really tried to improve the resolution of our images to make it easier for customers to see. Additionally, we are also working on augmented reality, so that they are able to look at any particular sofa, and put it in their living room to test how it looks in that setting. Thousands of customers have also sent in photographs to our gallery online of the product they ordered for their home, so we have lots of customers who browse through that to get a sense of what it actually looks like in a home rather than on a website. Those customers will then purchase online, and won't feel the need to go to a store. The growth we have seen in this area is significantly positive, and it will be an area that we continue to develop. I just want to do the best job I can for the customer, wherever they want to shop, and however they want to do it."
Continuing on the topic of developments, particularly with regards to the future of ScS, Steve shares how the company is exploring a number of avenues to improve the furniture shopping experience. "We are focusing on the future of the store, and at the moment, we are in the process of refining what I call our 'sandpit store', which is basically a store that we are trialing a number of improvements in. With the help of customer feedback, employee suggestions, and technological advancements, we are investigating what works and what doesn't, we hope to bring together our latest thinking into one store, which will be up and running in a few months.
"Alongside that, we will potentially open some new stores this year, and refresh some of our existing ones. But for me, most excitingly, we want to improve the ways in which we can give back to our communities. To achieve this, we are looking at the environmental, social and governance aspect of our business, and finding ways in which to up the measures that we have in place. At the moment, we are part of FISP, which stands for Furniture Industry Sustainability Program, and ScS has also joined the Leather Working Group. This means that we are committed to sustainable supply, and accordingly, we have switched all our electricity to 100 percent renewable sources and we have added our first fully electric vehicle to the company car fleet. In addition to that, we have donated 10,000 free meals, particularly during recent challenging months, to a number of our customers and others, and we have raised money for bowel cancer. So, we have really tried to think carefully about being a responsible business, how we can make a difference, and how can we give back."
In bringing our conversation to a close, Steve discusses the importance of a healthy and closely-knit company culture, and how management of the ScS team is continually striving to put the needs of its employees first. "We always endeavor to do right by our colleagues. When someone new joins, we put our arms round them, and help get them settled as best as possible. We care deeply how people feel, and we listen hard and we take actions on the back of that listening, and I think that is important."
Steve is immensely proud of his team, particularly of the support and dedication they have invested into keeping the company as successful as it is today. He looks forward to a brighter and more promising future. "I genuinely think we have a wonderful group of colleagues who work for us. Some of them have been with us for more than 40 years, and I am delighted to be part of the business. As only the fourth CEO for the company, I feel as though I am the custodian of it, and I just want to help the business grow, and do an even better job for our customers,"he concludes.
https://www.scs.co.uk/