Seattle Companies Battle in Lego Mindstorms Competition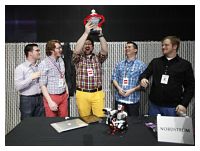 April 11, 2014 – Lego Systems, Inc. hosted the 'Build for Good' competition where Seattle's most innovative companies, including Amazon, Egencia, Expedia, HTC, Nordstrom, Xbox and Zulily, were invited to compete by building a Lego Mindstorms robot designed to improve everyday life on April 10. Shubham Banerjee, 12 year old inventor of Braigo, a Braille printer that anyone can build using a Lego Mindstorms set, inspired the challenge and was among the judges who awarded Nordstrom with top honors for creating a robot that made it easier to dispense medication.
A standing room only crowd at the EMP Museum cheered on teams from Seattle's marquee corporations who showcased robots that did everything from housesitting to planting crops for the chance to win five Lego Mindstorms kits to be donated to a local children's charity of their choice.
"I've been building for fun my whole life. When I learned how many people can't afford to buy a braille printer, I realized that I could probably build a solution using Mindstorms," said Shubham Banerjee. "It was really cool seeing all of these robots in action today and having the opportunity to judge the competition gave me even more ideas of what I could build next."
"We continue to be amazed by inventors of all ages who utilize the Mindstorms platform to express their creativity, building everything from robotic pets to robots that solve real life needs, like Shubham's inventive Braille printer," said Michael McNally, senior director of brand relations for Lego Systems. "In the spirit of these Lego Mindstorms inventors and inspired by today's competitors from Seattle's elite companies, we encourage children around the world to put their ingenuity to work through play to creatively build a better world."