RadioShack Returns to Boston Roots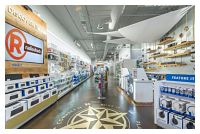 April 10, 2014 – RadioShack today announced the opening of its latest custom concept store, located in Boston near the site of the company's first retail location, which opened in 1921. This bolder, brighter custom concept store celebrates RadioShack's founding history in Boston, along with its deep-rooted commitment to collaborating with consumers to uncover what is possible through technology.
Located at 13 School Street in Boston's historic Downtown Crossing neighborhood, the newly remodeled store features a custom contemporary nautical design, paying homage to the city's maritime heritage with sailing rope accents, weathered wood and a ship's bow centerpiece. Interactive areas throughout the store encourage shoppers to discover personalized solutions, connect with sales associates and realize the unlimited potential of technology.
RadioShack's expert associates bring their "make it happen" attitude to each customer interaction, finding smart solutions to technology needs. This collaborative spirit is at the heart of the brand's "Do It Together" brand positioning and it is on display in the new Boston concept store.
"We are delighted to open our new custom concept store in Boston, the birthplace of RadioShack," said Joe Magnacca, chief executive officer of RadioShack. "Boston exemplifies the true spirit of innovation, and the city prides itself on being a hub for entrepreneurialism. This is the ideal backdrop to showcase RadioShack's fresh new look and renewed focus on technology discovery and collaboration."
The School Street store is the third custom-designed location to open in the nation and is one of 30 concept stores to open since RadioShack debuted the new concept store model in July 2013. These new locations reflect the company's strides toward reinvigorating its stores, revamping its product assortment and repositioning the brand.