Second Annual ANNpower Vital Voices Leadership Forum Inspires and Empowers the Next Generation of Women Leaders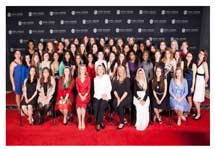 April 5, 2013 – Ann Inc., the parent company of Ann Taylor and Loft, and Vital Voices Global Partnership have shared the success of the second annual ANNpower Vital Voices Leadership Forum held this week in Washington, D.C. from April 1-4. During the Forum, the ANNpower Fellows – 50 young women in their sophomore and junior years of high school – participated in a comprehensive leadership training and mentoring program. Fellows met with international women leaders of today, including Senior Advisor to President Barack Obama Valerie Jarrett and former U.S. Secretary of State Hillary Rodham Clinton, who met the young women at the Vital Voices Global Leadership Awards.
This year's ANNpower Fellows were selected for their leadership potential and commitment to creating positive social change. Together with mentors from the Vital Voices Global Leadership Network, as well as executives from Ann Inc., the girls participated in a three-day training program designed to expose them to new perspectives and equip them with the skills to catalyze their own leadership to transform their own local communities and beyond. Activities included leadership and communications trainings, presentations on real-world solutions for social change, and unique mentorship opportunities. Role models and speakers included: award-winning actress, the face of Ann Taylor's Spring/Summer 2013 campaign, and ANNpower Advisory Council member, Kate Hudson; Ann Inc. president and CEO Kay Krill; Vital Voices president and CEO Alyse Nelson; as well as other prominent women leaders from all over the world.
"We are continually amazed at the power of bringing together our extraordinary Fellows with generations of influential female leaders," said Kay Krill. "Mentoring the Fellows and sharing my own path to leadership is an incredibly rewarding experience. I feel great knowing that the future of our communities will be in the hands of these very women someday – I believe they can and will create lasting change."
Kate Hudson, an ANNpower Advisory Council Member, made a surprise visit during the Forum and met with the young women to share her experiences as a female role model. Hudson said, "In all my years of advocating for empowering young women, I have rarely seen as much talent, passion and potential as what I witnessed at this year's ANNpower Forum. I cannot wait to see what these astounding young girls can do."
In addition to the three-day, intensive training, the ANNpower Vital Voices Leadership Forum also connects the Fellows to a longer-term support network that will support their leadership development and extend their impact for years to come. "In our global work to train, mentor, and connect women who lead progress in their communities, we've seen firsthand the power of networks to inspire and sustain movements for positive change. I'm deeply impressed by our 2013 Fellows and I'm so pleased to partner with ANN INC. as we collectively leverage our networks and expertise to invest in these remarkable young leaders," said Alyse Nelson.
Upon completion of the Forum, the Fellows are charged with developing projects to implement innovative solutions to social issues that impact their respective communities. The goal is to create a ripple effect that will benefit 5,000 or more people across the country in the next year. The young women will be eligible to receive ANNpower Project Grants of up to $2,500 to put their ideas into action.