KitchenAid Partners with Abt Electronics To Promote Recycling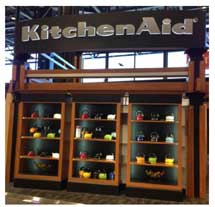 April 8, 2013 – KitchenAid is partnering with Abt Electronics in Glenview, Illinois to kick off Earth Week and encourage the responsible disposal of unwanted small electric kitchen appliances. From April 18 through May 16, Abt customers will receive an instant rebate toward the purchase of a new KitchenAid small appliance when they bring in any brand of small electric kitchen appliances to the store.
"Spring cleaning encourages many to purge cabinets, basements and garages of items like old appliances and there can be confusion about how to dispose of these types of items," said Phil Hannon, small appliances manager at Abt. "If you're not repairing or passing along an old appliance, recycling is the best option for disposal and this program makes it both convenient and rewarding."
The rebate program, beginning right before Earth Week and lasting through Mother's Day will offer $10 off new KitchenAid hand mixers, hand blenders, toasters, coffee grinders, slow cookers, and waffle makers; $20 off KitchenAid coffee makers, blenders, countertop ovens and food processors; and $40 off of any KitchenAid stand mixer. Participants will also have an opportunity to receive a free KitchenAid cookbook after completing an online survey.
"This is a great opportunity for cooks to take inventory of their favorite kitchen essentials and make an upgrade, or to think about a gift idea for a friend or loved one who cooks," says Beth Robinson, senior manager of brand experience for KitchenAid. "From our iconic stand mixer with its power hub that accommodates over a dozen attachments to our unique 13-cup food processor that doesn't require changing blades to go from thick to thin slices, we offer a range of high performance options for casual to serious cooks."