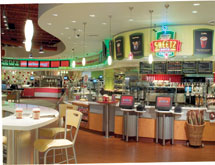 Convenience stores are not necessarily the first places people think of when it comes to getting fresh food fast. Sheetz is looking to change that.
Food is a major driver for the regional convenience store chain, which operates more than 428 locations throughout Pennsylvania, Virginia, Maryland, West Virginia, Ohio and North Carolina.
Sheetz convenience stores offer a variety of food items that go above and beyond the standard chips and prepackaged sandwich fare found in many of its competitors. These offerings include hot and cold subs, deli sandwiches, salads, wraps, hamburgers, hot dogs, grilled chicken sandwiches, fajitas, burritos, pizza, wings and snack wraps.
"We have as big a menu as there is in our industry and are always adding new things," says Travis Sheetz, executive vice president of operations and a member of the family that has owned and operated the stores since 1952. "We're always striving to be at the frontline of our industry."
Foodservice is emerging as the primary focus for the chain, which also offers gasoline as well as other convenience items. This trend is a result of volatile gas prices and a decrease in cigarette sales, long the largest revenue generator on the convenience store sector, Sheetz says.
'No Limit to Our Menu'
Food items are made to order at each Sheetz location. Customers are able to specify exactly what they want on their sandwiches, burgers or other items by using Sheetz stores' touchscreen ordering system.
This level of customization helps distinguish Sheetz not just from other convenience stores, but other quick-service food providers.
"Our kitchen never closes, and there's no limit to our menu," Sheetz says. "If you want a breakfast sandwich at 9 p.m., we can do that. We believe in giving customers what they want, when they want it."
Sheetz locations are also expanding their selection of food offerings to include fresh food cases featuring sandwiches, fruits, vegetables, hummus, sushi and other items that are made daily. These grab-and-go items are geared to the customer in a rush, Travis Sheetz says.
'Driven By Technology'
Sheetz stores' use of touch screens in food ordering is just one way the company uses technology to keep ahead of the pack in terms of innovation. "Our target customer is 16 to 25 years old," Travis Sheetz says. "Their world is driven by technology, so we expect ourselves to be on the forefront of that."
Mobile ordering via smartphone apps, social media and a customer loyalty program also help the company meet its customers' expectations. The loyalty program includes discounts, contests, surveys and freebees, and generates data the company can use in recruitment.
One Big Family
Sheetz's emphasis on foodservice returns the company to its roots as a dairy store and deli purchased by Travis Sheetz's uncle Bob from his father in 1952.
Bob Sheetz opened his second store, Sheetz Kwik Shopper, in 1962. Following the promotion of Bob's brother Steve to general manager in 1969, the brothers set out to open one store a year. When Bob Sheetz retired in 1983, the company had more than 100 locations. Bob's son, Stan, became president in 1995.
While the company today employs more than 14,500, the involvement of the Sheetz family gives it a culture that values longevity, Travis Sheetz says.
"We're a big company that really acts as though it were a small one," Sheetz adds. "At the end of the day, it's the people who make us successful. We have a very competitive, work hard/play hard culture here, and are able to accomplish some big things because of our people."