"We are known as the place to go in the Pacific Northwest if your feet hurt because we will solve your problems," President Josh Habre says. "We never tried to be orthopedic. We tried to find shoes people liked the fit and feel of, but weren't ashamed to wear. That's where we carved our niche in the market – shoes that support your foot, but don't make you feel like you are wearing orthopedic footwear."
Shoe Mill has remained a family owned business for the past 41 years. Habre's grandparents founded the footwear company in Portland, Ore., in 1978 and his father, Ed Habre, oversaw the company as president and CEO until November 2018 when Josh Habre became president.
Today, Ed Habre's four sons – Jared, Josh, Joel and Jordan Habre – have assumed leadership roles within the company. As the company transitioned from the second to third generation, the Habre family took advantage of the National Shoe Retailer Association's NextGen Leadership Program to ensure the change in leadership went smoothly.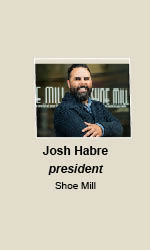 "My brothers and I started in the stock room and worked our way up to managing stores before we assumed the leadership roles," Josh Habre says. "The transition is a process. It doesn't happen in an announcement. My father has taken a step back and my brothers and I are running the company. It's nice to come to work every day and know that you have the support of your brothers, and there is very little competition among us because we each have unique skills and personalities that complement one another."
Inviting Atmosphere
Shoe Mill operates seven storefronts throughout Portland and Salem, Ore., in addition to its robust online business. The company lives by eight core values, and chief among them is to be kind. "It sounds trite, but just being kind goes a long way," Habre says. "We have about 35 salespeople and we search for personality first because I can teach them how to sell shoes, but I can't teach someone to be kind or have a personality. If it's really in a person's heart to be helpful and kind, they will be successful here."
The company recently relocated its headquarters to Clackamas, Ore., where it dedicated about 1,000 square feet of the total 15,000 square feet of office and warehouse space to create a mock store for training. "It's not a full store, but has a lot of similar elements so the training feels immersive on day one without the distractions of customers so they can focus only on training," Habre explains. "As we start to ramp up for the fall, we've had five new hires come through our mock store and they are impressed."
Clients will experience an entirely different shoe shopping experience when visiting any Shoe Mill location compared to other retailers. First, the salesperson starts by measuring the client's foot with a Brannock device. "Often times, when a new client visits our stores, their comment is, 'I haven't seen one of those in a shoe store in year,'" Habre says. "While our existing customers are upset if we don't measure their foot because your feet change over time. We also use a digital foot scanner to locate pressure points."
After measuring and scanning, Shoe Mill offers its clients a selection of aftermarket in-soles to customize the fit of the shoe to the foot shape and size. "We offer measuring and scanning at no cost because we want to fit you right the first time," Habre notes.
A majority of Shoe Mill's business remains in its brick-and-mortar stores, but the company has noticed an increase in its clients shopping online for replenishment shoes. "Our website drives mostly replenishment business and our challenge is getting them to come back to brick-and-mortar for their second, third or fourth pair," Habre says. "We are combating that by bringing in fresh styles and colors more often and not carrying older styles in the stores so our clients have a reason to shop."
Solid Footing
Now in its third generation of leadership, the Habre brothers have developed a strategic plan to grow the business. "Typically, a family business fails in transition from one generation to the next and it's typically the third generation that runs it into the ground," Habre admits. "We don't want to be a statistic. We want to grow the company."
The brothers plan to strategically expand its brick-and-mortar locations into A+ destination shopping centers, acquire the real estate to control costs and make a foray into wholesale distribution with a brand it feels will benefit the independent retailer. "Shoe Mill expects to announce its plans in August at FN Platform," Habre says.