Shopkick No. 1 Most Frequently Used Shopping App and Now No. 34 of All Mobile Apps in the U.S.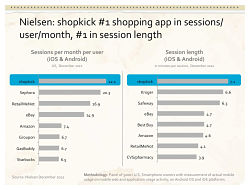 Feb. 13, 2013 – Shopkick, the most widely used real-world shopping app, today announces that Nielsen ranked shopkick as the 34th most widely used of all roughly 1,000,000 mobile apps in December 2012, ahead of other popular apps such as Skype, Yelp, foursquare, CNN, Angry Birds and Fandango. While still trailing giants like Facebook, YouTube and Twitter overall, shopkick dominated the shopping category during the holiday season, with more frequent and prolonged usage than all physical retailers' own apps including Starbucks, Walmart, Walgreens, Kroger, and Safeway.
Shopkick 3.0, released last October, topped the Nielsen shopping app statistics on three out of four axes. According to Nielsen, shopkick is the 4th most widely used shopping app – behind Amazon, eBay and Groupon – which makes it the most widely used shopping app in the real world at physical retailers. Shopkick ranks No. 1 on most time spent in-app per month (2 hours, 37 minutes), No. 1 on the number of sessions per month (22) and No. 1 in terms of time spent per session (7 minutes).
Shopkick's users viewed more than 1 billion products in the app within three months – since the app was redesigned as shopkick 3.0 in October – a number that previously took shopkick one-and-a-half years to reach with its former version. Previously, users looked at 5-8 products per day in the app, with shopkick 3.0 each user averages over 100 products viewed per day.
"Mobile is redefining the physical retail world. It is on its way to become the No. 1 marketing tool for retailers and brands, because it is the only interactive medium consumers have with them in the non-interactive physical world, especially at stores. Companies that don't embrace that are being left behind," said Cyriac Roeding, co-founder and CEO of shopkick. "It's the perfect way for retailers and brands to touch shoppers at each point in the purchase cycle –from research through browsing, to purchase."