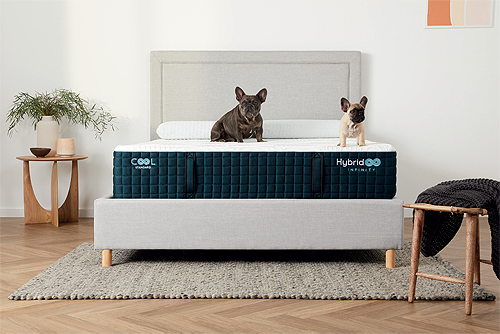 Mattress shopping made easy
Whether shopping within one of its superstores or from the comfort of their own home, customers know that with Sit 'n Sleep they won't find better service or value anywhere else
Regular readers of Retail Merchandiser will likely be familiar with the name Sit 'n Sleep. For those not fortunate enough to be aware, the largest family-owned mattress retailer in California has been proudly serving its customers since 1979, when it was co-founded by its Chairman and CEO Larry Miller and his father, Phillip Miller, and is currently run by Larry and his business partner and President, Nelson Bercier. More than 40 years on, the business has grown to account for 38 superstores, a call center and ecommerce store, located throughout Southern California, as well as a 240,000-square foot distribution center and corporate office in the city of Gardena.
Over the last several years, Retail Merchandiser has been proud to document the ongoing success of Sit 'n Sleep, and in speaking again with Larry in November 2020 it was hugely insightful to hear about what the last 12-to-18 months have been like for the business. "We enjoyed a very strong end to 2019, and an equally good start to 2020," he says. "Of course, what followed as a result of the Covid-19 pandemic was the shutdown of our regular retail operations from the middle of March through to the end of May, which was a really challenging time, not just for ourselves but the entire retail market."
With over four decades of experience within the industry, Larry and his team have weathered difficult times before with success, and they were determined to do so again this time around. "What we needed to do was essentially undergo a paradigm shift, focusing in more on advertising the fact that our customers could contact us via our call center or shop online," he states. "This proved itself to be pretty successful, and certainly helped to keep our head above water during those initial few months. Since our superstores reopened, our business has been very strong, with double digit, same store sales growth helping us to minimize our sales losses for 2020."
Quality products
As Larry goes on to explain, Sit 'n Sleep has had to undergo something of a reinvention in 2020 to respond to the unique, once-in-a-generation circumstances created by Covid-19. "Fundamentally, we had to change the way in which we spoke to the consumer, and this meant a different style of advertising, one that was not so much sales orientated, but more safety and service focused. Consumers today are – understandably – fearful of a number of things, and I believe that they truly appreciate it when a business or retailer acknowledges this and goes that extra mile to calm these fears as much as possible. That is what we have done here at Sit 'n Sleep, by taking every step possible to create clean, safe environments for our customers to shop in. Whether it be hand sanitizer stations throughout our superstores, social distancing, facemasks or other PPE COMbeing widely available, the fact that we are demonstrating on a daily basis just how seriously we are taking Covid-19 and the pandemic has really spoked to our customers and helped to increase sales since we reopened."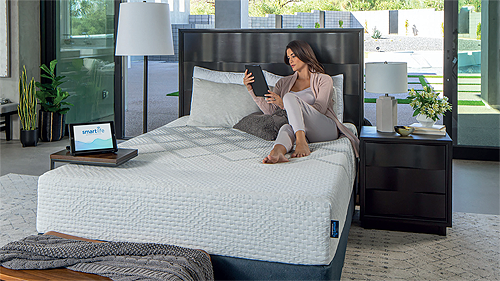 Turning to the topic of what exactly it is in the way of products that is helping to drive said growth, Larry has a clear explanation at hand. "With consumers spending more and more time at home these days, they are showing a clear willingness to spend that little bit more on better quality products," he continues. "If nothing else, 2020 has given many people a greater appreciation of their home environment, and what we sell is a key element of this. I think what our customers realize is that spending the right amount to get a great night's sleep adds tremendous value to their daily lives. With it, you feel better the next day, you work better the next day, and you enjoy more. Countless people will know that without that deep restorative sleep that we all need, other parts of our lives become more fractious and difficult, and doing ones best to avoid that is all the more important in this day and age."
While 2020 has been challenging, Sit 'n Sleep has not rested on its laurels. Indeed, the company has still managed to introduce several exciting new product lines to its portfolio over the last 12 months. "Among the best received has been the Hybrid Infinity line by Classic Brands," Larry reveals. "This special range of hybrid mattresses uses technology to create the perfect balance of comfort and support by combining memory foam with pocketed springs, and has been extremely well received by our customers. We have also introduced a line of Smart Life mattresses by King Koil, which we feel is a phenomenal product that gives us entry into smart bed technology with smart cells that custom fit to our guest's comfort and support needs. Once again, these are doing very well in terms of sales also.
"What both the Hybrid Infinity and Smart Life ranges demonstrate to us is that what hasn't changed about consumers is their desire for great products. They also want the assurance of knowing that they are getting great value, as well as first-class service, and so long as Sit 'n Sleep continues to deliver those things we will continue to earn their custom. We have always believed that just because you have a store with products to sell, it doesn't entitle you to a consumers' business or trust. These things have to be earnt, and that is what we strive to do on a daily basis."
Positive future
The pandemic has also reemphasized to Sit 'n Sleep and other retailers the critical importance of their relationships with suppliers and vendors. This was brought into stark realization for Larry when he himself visited a national retailer hoping to purchase a set of chairs, only to be told that the wait for delivery could be up to six months. "It was then that I was reminded just how important immediate gratification is to the consumer," he confirms. "What we did at Sit 'n Sleep is double down on our inventory levels, making a significant investment in order to ensure that we could get our customers the products they wanted quickly and efficiently."
With 2021 fast approaching, Larry is in a refreshingly optimistic mood regarding what the immediate future holds for Sit 'n Sleep and the wider sector. "I remain convinced that the trend towards the home environment will continue into next year and beyond, as more and more people become hyper-focused on what they can do to their home environment in order to make their lives more comfortable and heathier. Therefore, I think there are great opportunities out there for those retailers who are prepared to innovate, while also continuing to give their customers great value for their money," he proclaims. "If we can continue to do that, whilst at the same time extenuating the buying and delivery process, then we will no doubt earn a greater share of the market, which is critical to achieving growth."
Before concluding our conversation, Larry had one final point to make, specifically about the Sit 'n Sleep team. "The most critical component in our daily operations, in my view, are those key touchpoints between the consumer and our staff, and having bright, intelligent and passionate people working for us across the business is the primary reason why we are so successful," he enthuses. "On average, our sales representatives have been with us around nine years now, which is unusual within our industry, and we continue to invest in them and their training COMand development so that they can continue to provide better service to our customers. As all of our people come to understand, providing good customer service is about giving something to a customer before they realize that they need it, and if our teams can continue to achieve this that we can continue to justify our strong position within the market." v